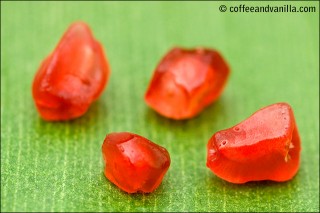 Pomegranate – Punica granatum is native to  Southwest & Central Asia. It has been cultivated in Caucasus (Georgia, Armenia, Azerbaija), Mediterranean (Turkey, Spain, Italy) and also Iran, Malaysia, East Indies and Africa since ancient times. Then it has been spread to Latin America by Spanish settlers and later also to California and Arizona.
There are many different varieties of pomegranate, their colour can vary from yellow-red, through deep red to deep purple or almost black. The interior of pomegranate is separated by white spongy walls  into compartments with seeds dressed in translucent white, pink, light or dark red pulp that has tart but delicious, fresh and juicy flavour which can be eaten raw or used in cooking or squeezed to produce juice.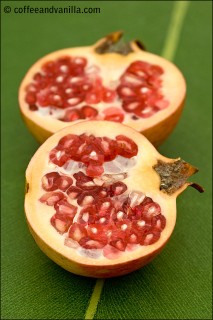 NAMES
In many languages the name "pomegranate" comes from two Latin words "pomus" meaning – apple and "granatus" meaning – seeded.
Other names for Pomegranate are: Granat in Polish, Granatapfel in German, Granada in Spanish, Romã in Portuguese, Grenade in French, Nar or Rumman in Turkish, Anar or Darim or Anardana in Hindi.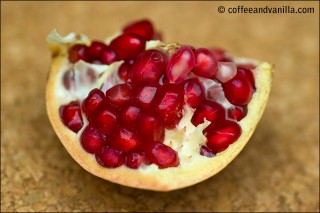 WHEN IN SEASON
Pomegranates are in season from September to February in Northern Hemisphere and from March to May in Southern Hemisphere.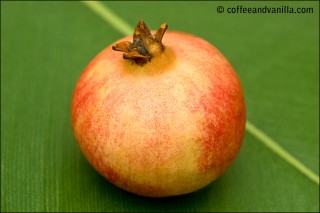 CONSUMPTION
Pomegranate can be easily open by scoring the skin (in four) and then breaking it open.  I did not know if before I did this research on the pomegranates that is why on the second picture it is halved with the knife…
Uses of pomegranates:
to make juice, California is a big producer of pomegranate juice
to make Grenadine syrup used in cocktails or traditional Iranian savoury dishes
dried seeds (Anar) are used as spice for chutneys and curries
in Turkey pomegranate sauce is used as dressing for salads or to marinate meats
in Azerbaijan pomegranate sauce Narsharab is served with fish or kebab
in Syria and Turkey pomegranate molasses are used to produce Muhammara spread containing roasted red peppers, garlic and walnuts
in Armenia and Israel wine is produced from pomegranates
in Greece Kollivozoumi soup made of pomegranates, wheat and raisins is made
used in salads or as a garnish
pomegranate glaze is used for lamb kebabs
for pomegranate-eggplant relish
to make avocado-pomegranate guacamole dip
as ice cream topping
as yogurt or cereal topping
in Cyprus and Greece they are used to make Kolliva: mixture of wheat, pomegranate seeds, sugar, almonds and other seeds served at memorial services
NUTRITIONAL VALUES
Pomegranate juice very rich in vitamin C, is a good source of vitamin B5 (pantothenic acid), potassium and antioxidants.
---