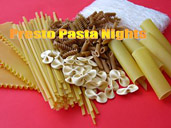 This is my entry for "Presto Pasta Nights" hosted by Ruth from Once Upon A Fest.
Round-up of all those delicious pasta dishes will appear on January 4th, Friday on Ruth's website.
Turkey Spaghetti Carbonara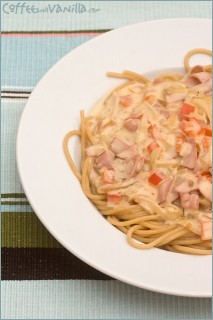 INGREDIENTS
2-3 onions (finely chopped)
150-179g honey roasted turkey ham (chopped)
2-3 tbs olive oil
1 sweet red bell pepper
3 x 4g caramelised onion cubes or 1 large (10g) vegetable cube
liquid Maggi seasoning
1½ cup soured cream or 1 cup soured cream and ½ cup double cream
rainbow peppercorns
1 cup hot water
1 tbs potato flour + ⅓ cup cold water
400-500g wholemeal spaghetti
sea salt
METHOD
Cook pasta in salted water.
To prepare sauce fry onions on olive oil till soft. Add ham, pepper, cubes and fry some more.
Then add hot water, cook for a few minutes longer.
Stir in cream and cold water mixed with potato flour.
Continue cooking stirring all the time till sauce is bubbling.
Remove from fire. Season with freshly ground pepper and Maggi seasoning.
Serve sauce over cooked and drained pasta.
Serve 3-4 people.