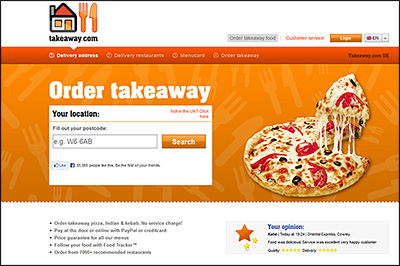 I don't really like to order ready food on-line for one reason, the websites of most take away places are not always user friendly and on many check out process is not so straight forward, even for  someone who is quite computer literate as I am. So unless I know the place and dishes I would probably not even think of ordering anything but Takeaway.com solves those problems.
The other advantage is the fact that you can easily search for nearby take-aways within your postcode and the menus from each of them will display on Takeaway.com website itself in easy to read, uniform manner mentioning available payment methods, opening hours, order minimum, delivery charges (if any, most of the time delivery is free), sometimes even dietary information … and clear, fuss free basket and check out.
After entering your postcode you can also search venues through the category filter if you like: African, American, Balti, Curry, Burgers, Italian, Steaks etc.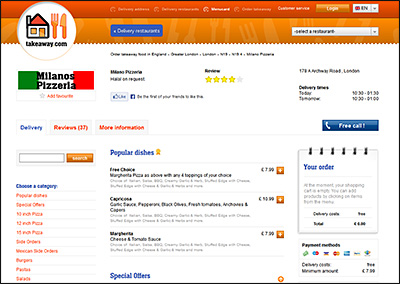 Takeaway.com is relatively new service so there is still a lot of places to be added but many restaurants has already rating and reviews included… which is very important, especially if you think of ordering from some place new for the very first time.
We have ordered twice from Milanos Pizzeria which, despite being just round the corner from us, we haven't tried before writing this article. We have quite enjoyed the food but if you are ordering on weekends make sure to do it at least an hour in advance as they are very busy. On the weekdays time of awaiting the food is much shorter.  The pizza I personally enjoyed the most was Roasted Vegetarian (10 inch for £7.99)… also available as a part of couple of family deals.
DISCLOSURE: I received Takeaway.com coupon to try the service for review purposes. I was not financially compensated for this post. All opinions are my own.