Those cookies were made almost entirely by MarissElla – Marissa (8) and Ella (3) – my daughters, only with a bit help of dad who accidentally added the whole egg instead of yolk… maybe for the best as the cookies turned out to have perfect texture and were also very yummy.
INGREDIENTS
215 g / a bit less than 1½ cup plain flour + some more for dusting
1 tsp baking powder
1 pinch of salt
140 g real butter, can be salted (softened)
50 g / ¼ cup home-made cinnamon sugar
50 g / ¼ cup home-made vanilla sugar
1 egg
½ cup of chocolate chips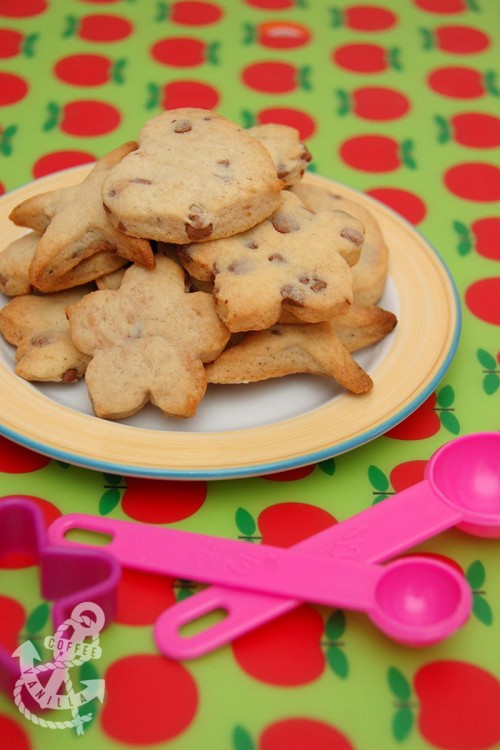 EQUIPMENT
mixing bowl
rolling pin
cookie cutters
2 trays lined with baking paper
METHOD
In a mixing bowl combine all the ingredients except for chocolate chips.
Knead the dough until well combined.
Fold in chocolate chips as well.
Roll piece of the dough at the time on floured surface, cut out the cookies with cutters.
Place them on baking trays and bake in the oven preheated to 180°C (356°F) until golden brown.
Makes about 45 small cookies.
NOTES
If you don't have cookie cutters or want to speed up the process just make little dough balls and then flatten them with bottom of the cup or even hand.
If you don't have cinnamon or vanilla sugar on hand you can replace them with plain caster sugar and add couple of drops of vanilla extract to the dough instead.