Last weekend together with my girls we went to see Moshi Monsters The Movie in London's West End. They have loved  face painting, magicians and all the fun in the foyer… they have even taken some photos with Poppet & Katsuma :)
I have confession to make – unlike my older daughter who is crazy about those little creatures, I have never been a Moshi Monster fan, mostly because they were just made up creatures without a story. But that definitely has changed since we watched the movie…
Seeing the film let us get to know the characters… it was very interesting to find out that not some of them that seemed so cute turned out to be quite bad while others, that we haven't even noticed before, are important part of Monstro City life.
Also listening to Michael Acton Smith – Mr. Moshi (creator of Moshi Monsters and Mind Candy CEO ) and hearing how the Moshi Monsters and Moshlings came to life, in London's "Silicon Roundabout" in Shoreditch, gave me completely different point of view on the whole thing.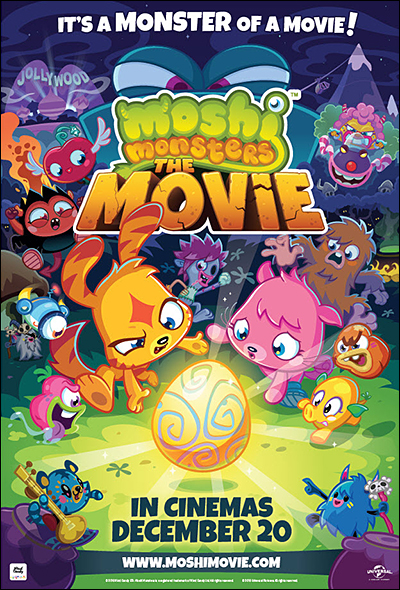 I'm not surprised that both of my girls (3 & 8 years old) absolutely loved the movie…  At first I was a bit worried that the little one would get bored during the movie but I was wrong,  we haven't even realized when the entire movie has passed and it was time to go home.
Moshi Monsters The Movie is very entertaining, with catchy music and engaging story line where Poppet, Katsuma, Zommer and Mr. Snoodles are trying to recover ancient Moshling egg from evil Dr. Strangelove…  Are they succeeding? Well, you have to go and see it for yourself, the movie will be in the cinemas across UK & Ireland on the 20th of December.
In meantime enjoy this short movie trailer…
NOTES
Moshi Monsters The Movie can be purchased now on DVD.
DISCLOSURE: We have been invited to Moshi Monsters The Movie  screening for review purposes. We were not financially compensated for this post. All opinions are our own and we retained full editorial control. This post contains some affiliated links.