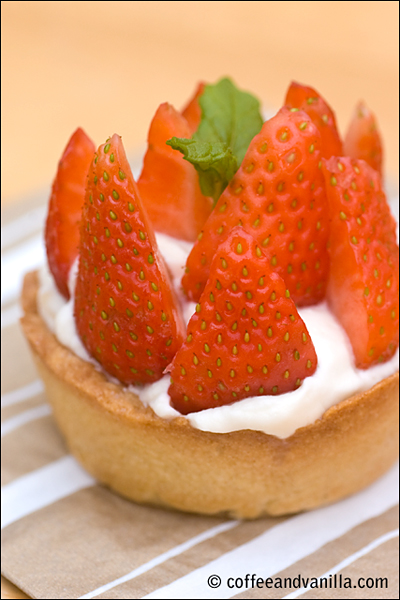 INGREDIENTS
1 cup – 250 ml whipping cream
½ cup golden caster sugar
24 medium strawberries – about 300g (hulled and quartered)
12 mint leaves
for the pastry
1½ cups plain white flour
½ bar – 100g unsalted butter (cold, chopped)
¼ cup fine caster sugar
1 large egg
pinch of salt
EQUIPMENT
food processor or hand whisk to beat eggs and whip the cream
large non-stick baking tray for 12 muffins / scones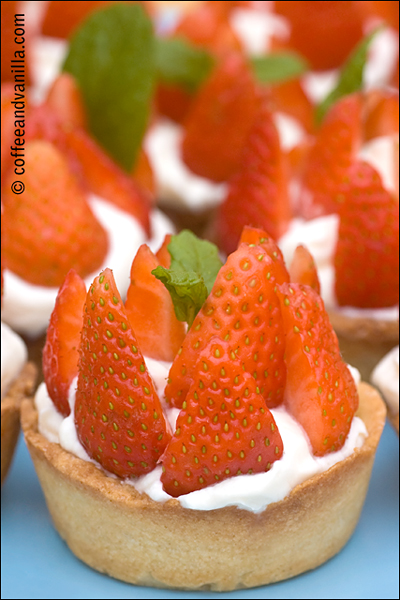 METHOD
To prepare pastry combine all ingredients and knead fast, dough can't get too hot. Divide mixture into 12 pieces, spread each one on the bottom and sides of muffin / scone tray.
Bake in the oven preheated to 180°C (356°F) for 8 minutes or until golden brown.
Once the tart bottoms are completely cooled down combine whipping cream and sugar and beat until thick.
Share the cream into tart bottoms, top with strawberries and mint leaves.
Serve immediately or leave in the fridge to cool down a little bit.
Make 12 mini tarts.
NOTES
If you make twice more pastry from the whole bar of butter, it can be easily stored in the fridge for couple of days or even frozen.
Strawberries can be replaced with some other fresh fruits such as raspberries or even tinned fruits, for instance – pineapple.
Skip mint leaves if you are baking for little children, or replace it with some sprinkles.