Lunchbox # 35 (for 4 year old girl)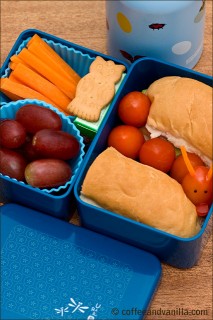 sandwich (cut in half) made of mini bread roll, butter, turkey breast and Red Leicester cheese
caterpillar made of plum tomatoes, carrot sticks, red pepper tongue and kalonji seeds for eyes
owl shaped biscuit
red grapes in silicon muffin case
raw carrot sticks in silicon muffin case
mini box of raisins and dried apples
bottle of  mango & papaya tea
mini raspberry fromage frais + spoon
napkin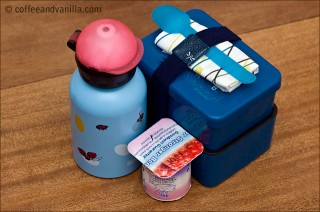 Everything closed in a 600 ml (bottom and top tire together) lunchbox with a strap, placed together with large ice pack in an insulated lunch bag.
At the same time when I'm making lunchboxes for my 4 year old girl I'm preparing second lunchbox for 14 year old boy. They contain double-triple amount of almost the same things just not made to look cute, in plain 1000 ml transparent clip box (on request) with large gray ice pack. I replaced also animal shaped biscuits with regular malted biscuit and mini box of raisins and apples with larger one (they sell them in 3 different sizes).
More lunchbox ideas can be found here: Lunchbox Food.
And here you can read about Packing Children Lunches.
---
This is my entry for my own event: "Wholesome Lunchbox". If you want to participate, please send link to your entry before 15th of each month.