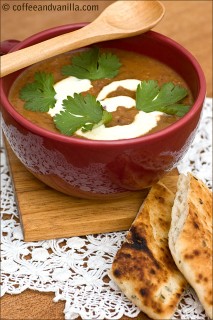 INGREDIENTS
4 cups mixed beans – I used red and white kidney beans and butter beans (soaked overnight)
5 litres of boiling water
6 large carrots (coarsely sliced)
4 large onions (sliced)
4-6 tbs olive oil or Carotino
6 large chicken or vegetable cubes (10g each)
3 tbs mild curry powder
1 tbs garlic granules
½ bunch fresh coriander (chopped)
1 lemon juice
sea salt to taste
1 cup double cream to serve
garlic and coriander naan bread to serve or some crusty bread
EQUIPMENT
hand blender
large pot with cover
large frying pan / wok
METHOD
Rinse soaked overnight beans, place them in the pot and cover with 4 litres of boiling water.
Cook uncovered removing any scum that is creating. Then reduce fire, cover and cook for 2-3 hours or until beans are soft.
In meantime fry onions and carrots on oil until golden brown. Add to the pot with beans.
Add also cubes, garlic, curry powder, lemon and another liter of water.
Cook only until carrots are very soft, remove from fire, add half of the coriander.
Cream the soup using hand blender.
Season to taste with salt if necessary.
Share to the bowls topped with some cream and the rest of freshly chopped coriander and warm garlic and coriander naan bread or crusty bread on a side.
Serve 6-8 people or 4 as a dinner and then next day lunch.
Add more water if soup is too thick.
Taste great with warm naan but also on it's own.