[dough proportions based on pizza base recipe by ZeroLab who was inspired by Jamie Oliver]
If you have left any leftover Christmas turkey, this recipe is perfect for you.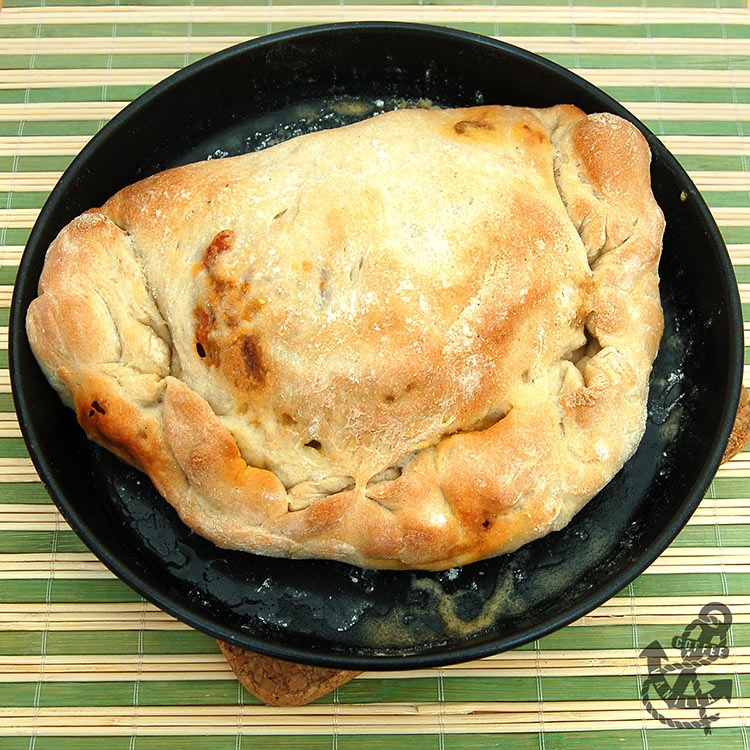 INGREDIENTS
for the dough
1 kg strong white bread flour
200 g coarse semolina flour
15g / about 1½ tbs instant dry yeast
1 tbs golden caster sugar
1 tsp sea salt
650 ml lukewarm water
6 tbs olive oil
some more oil and flour to grease the tins
for the filling
6 handfuls of chopped leftover turkey or any other cooked meat
500 g jar of tomato sauce
1 whole large leek (washed and chopped)
leftover Christmas herbs such as rosemary and sage (chopped)
500g of grated cheese (we used mature Cheddar)
EQUIPMENT
rolling pin
6 sandwich trays
large mixing bowl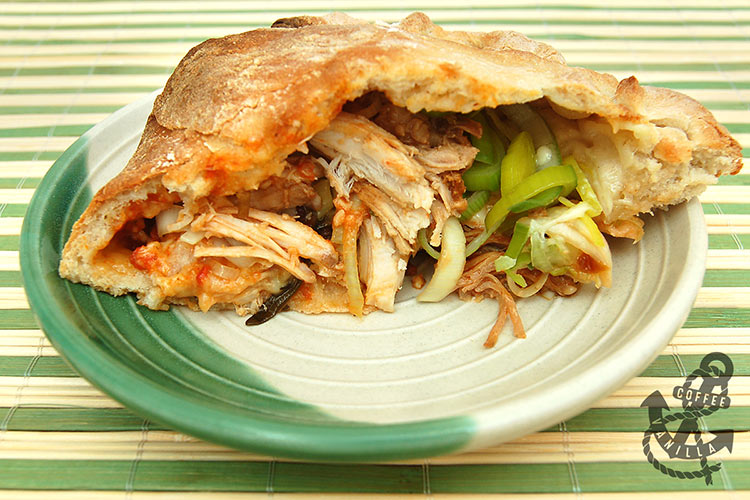 METHOD
Mix all ingredients for the dough and knead until well combined and not sticking to hands any longer.
Leave covered with a kitchen towel in warm place to grow for about an hour.
In meantime prepare the filling.
Share the dough into 6 pieces.
Roll out each portion and place on greased and sprinkled with flour sandwich trays letting the dough cover the edges of the tins.
Brush each calzone with tomato sauce, top with turkey, leek, herbs and plenty of cheese.
Fold the dough in half sticking the edges together.
Bake in the oven preheated to  175°C (350°F) until golden brown.
Serve immediately.
Makes 6 quite large portions.
NOTES
If you are looking for more leftover roast ideas Jeanne transformed leftover roast lamb into Lamb Stroganoff.
I'm submitting this recipe to Elizabeth's No Waste Food Challenge.