Krupnik is traditional Polish pearl barley soup, not to be confused with Krupnik – an ancient Polish liqueur made with honey and spices.
As a child I hated this soup and anything with pearl barley for that matter. The reason for this was the fact that my maternal grandfather used to cook bones with barley for his German shepherd. Veranda of his house was always filled with scent of dog food, it wasn't a nice scent to be honest.
On the other hand my paternal granny often used barley to make krupnik but I only learned to like it as an adult. My girls seem to be ok with the barley, the only detail that bother them a bit is the squeakiness.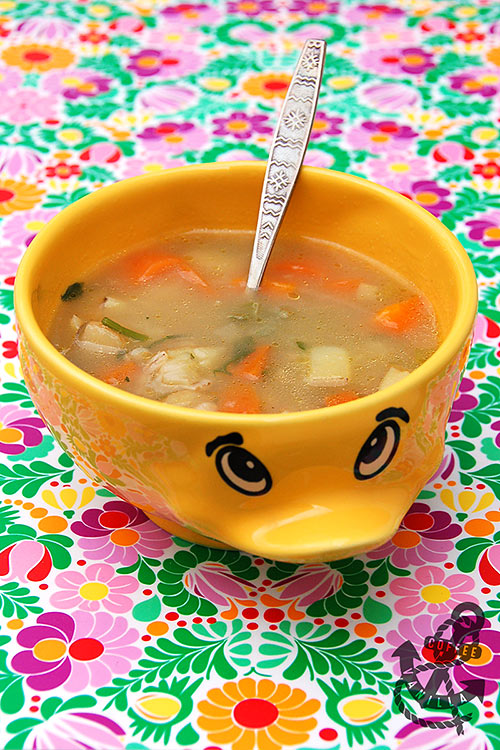 INGREDIENTS
2 chicken's bones or couple of package of chicken wings (optionally you can skip it for vegetarian version)
2 vegetable cubes (10 g each)
2 chicken cubes (10 g each) – replace with vegetable cubes for vegetarian version
3 l of boiling water
1 parsnip (halved lengthwise)
1 large leek, can be frozen (halved lengthwise)
piece of celeriac root, about 50 g (cut in half)
250 g pear barley or optionally bulgur wheat
3 large potatoes, about 750 g (cubed)
3 carrots (diced)
5 – 6 bay leaves
handful of fresh, chopped parsley
2 tbs dried marjoram
1 tbs garlic powder or some fresh one
sea salt
black peppercorns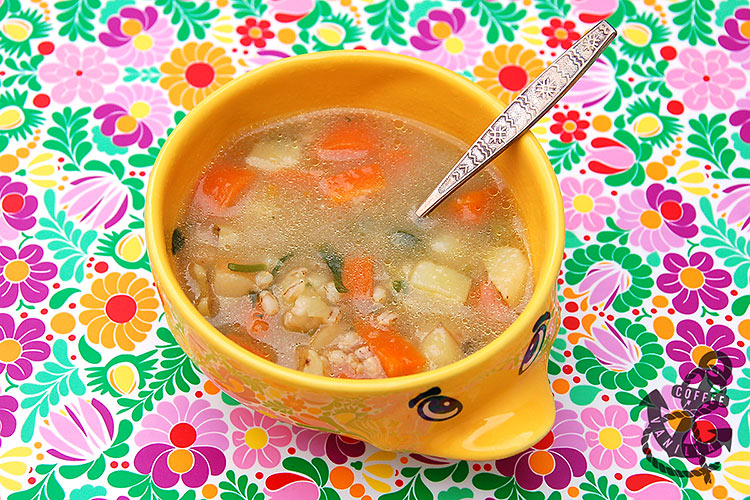 METHOD
Place chicken wings or bones in large pot together with water, leek, parsnip, celeriac, bay leaves and cubes.
Bring to boil, simmer covered for about 30 minutes or until chicken is ready.
Remove chicken/bones and vegetables from the pot, leave aside.
Strain the stock and return to the pot.
Add garlic, half of the marjoram, barley, potatoes, carrots, parsley and cook on medium fire until barley and potatoes are ready.
Add the rest of marjoram and cook few minutes longer.
Season to taste with salt (if necessary) and freshly cracked pepper.
Share to the plates, also the chicken if wings were used.
Makes 5 – 6 servings.
TIPS
Cubes can be completely skipped and more salt used at the end.
NOTES
I'm adding this recipe the Inheritance Recipes challenge that we co-host with Solange of Pebble Soup. April Inheritance Recipes is hosted by Solange, please come and join us, share your inherited recipes!