Those creepy little snacks are super easy to make would make great Halloween party treat.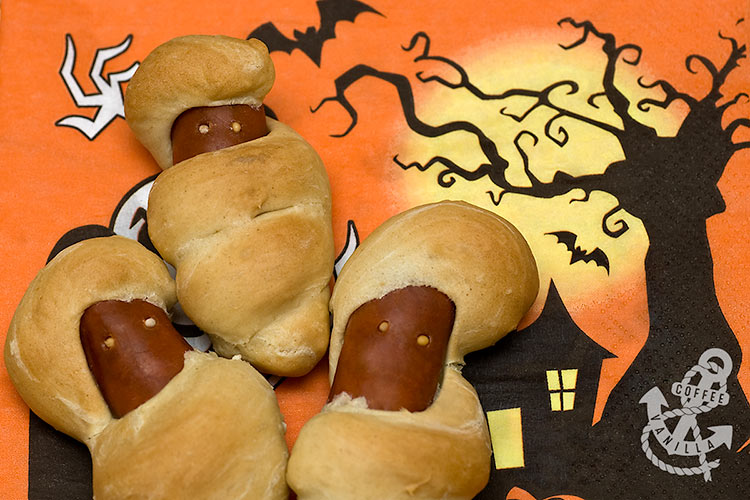 INGREDIENTS
300 g mini kabanos sausages (about 20)
40 mustard seeds for eyes
for dough
220 ml warm water
¾ tbs dried yeast
¾ tsp sugar
2¼ cups plain flour
¼ tsp sea salt
2 tbs olive oil
EQUIPMENT
non stick baking tray or normal tray and Teflon sheet
METHOD
Warm up oven to 150°C (302°F).
Place yeast and sugar in warm water and keep aside for 10-15 minutes. Then mix it with flour, salt and oil till dough is smooth and not sticking to hands any more.
Divide dough into 20 portions, cover with tea towel and keep in a warm, quiet place for couple of minutes.
After about 5 minutes roll each portion of the dough into long string, wrap around sausages.
Place them on baking tray and bake for about 30 minutes.
Remove from the oven, decorate with mustard seeds as eyes and serve.
Serve with mustard, other dipping sauce or on a side with pumpkin soup.
Makes about 20 small snacks.
TIPS
Taste good warm and cold.
Kabanos sausages (kabanosy) are available in Polish and Jewish stores.
Kabanosy can be replaced with veggie sausages for vegetarian version.
NOTES
More Halloween recipes and DIY ideas.