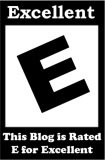 I have been awarded by Mrs. W of Mrs. W's Kitchen with "E for Excellent" Award :) It has been very nice surprise to me! Thank you Mrs. W!!
Now I have pleasure to pass this award on 12 of many excellent food bloggers, I wish I could nominate all 52 food blogs I read daily :)
So the award goes to:
Mike of Mike's Table
David of Book The Cook
Ruth of Once Upon A Feast
Rosie of Rosie Bakes A 'Peace' of Cake
Meeta of What's For Lunch Honey?
Elana of Elana's Pantry
Mango Power Girl of Mango Power Girl
Bren of FlaNBoyant Eats
Ivo of All My Bento Are Belong to Me
Kaykat of Cooking from A to Z
Katie of Thyme for Cooking
Amelita of Squishymess