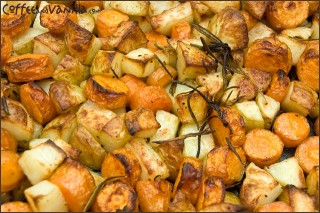 INGREDIENTS
600g young carrots (roughly sliced)
600g young potatoes (cubed)
sea salt to taste
black peppercorns
4 tbs olive oil
small handful of fresh rosemary leaves
METHOD
Season vegetables with olive oil, freshly ground pepper, salt to taste and bake on non stick baking tray for about 40-50 minutes at 180°C (356°F), in half time you can turn on also grill.
Serve 4 people as a side dish.
Rosemary can be replaced with thyme.
For rustic look use whole baby potatoes and carrots chopped coarsely to be the same size with potatoes.