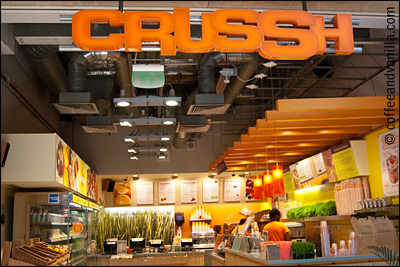 If you think healthy, low in calorie food can't be tasty you can't be more mistaken… Couple of weeks ago together with Jeanne from Cook Sister!, Michelle from Greedy Gourmet, Sarah from Maison Cupcake and Solange from Pebble Soup we were invited by MD Chris Fung to Crussh Juice Bar at Canary Wharf 's Jubilee Place to try they dishes.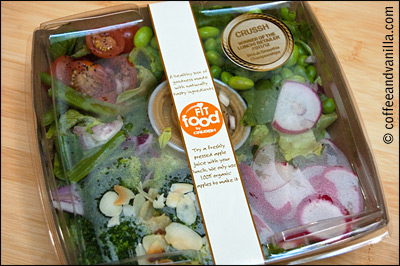 I must admit that I did not have high expectations, I was only hoping that I will be able to find one or two nice dishes to tell you about… well, I was wrong, very wrong (!) The food was not only goooood, all of the salad, stews, wraps, smoothies were bursting with unexpectedly delicious flavours.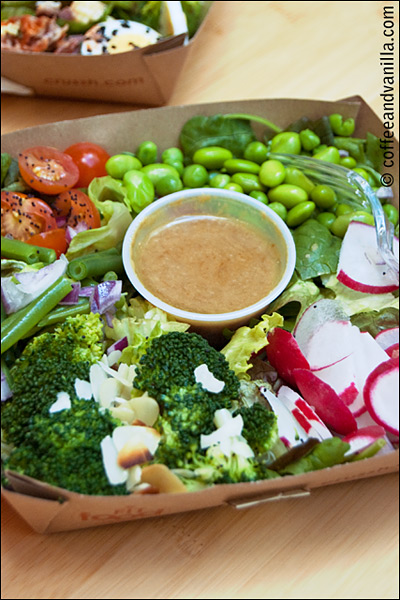 Crussh has very large variety of fit foods, lets start from SALADS.
Pictured above Super Greens Salad (take-out £4.05, eat-in £4.86) is a mix of super healthy veggies topped with toasted almonds, poppy seeds & wasabi dressing… one of my personal favourites in Crussh. At first the salad does not look like it much different from supermarket salads but from the first bite you can tell the difference, the dressing is truly delicious and veggies and perfectly prepared…not too soft, not too crunchy.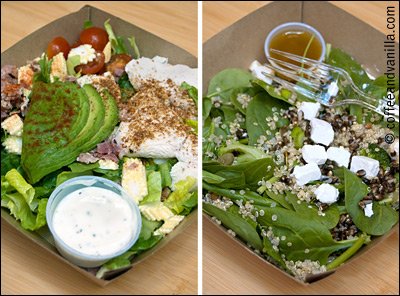 Other yummy salads (pictured above) starting from the left:
NY:LON Cobb Salad (take-out £4.20, eat-in £5.04) with lettuce, chicken, avocado, crispy bacon, hard boiled egg, goji berries in paprika dressing with low fat garlicky sauce.
Quinoa & Black Barley Superfoods Salad (take-out £4.05, eat-in £4.86) with spinach leaves, greek style salad cheese, sunflower & pumpkin seeds in lemon & herb dressing, very different from any other quinoa salad I have eaten before, feeling very lite and fresh.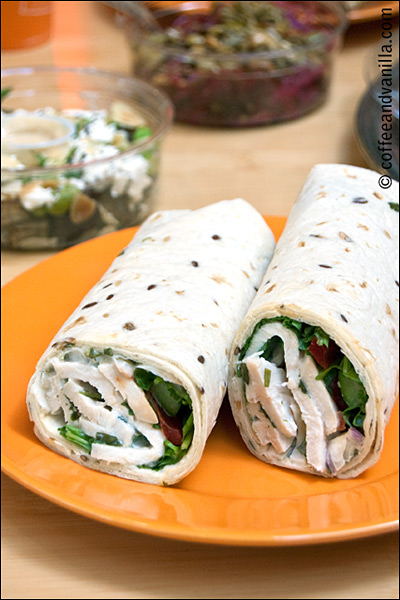 Except salads Crussh has good selections of SANDWICHES & WRAPS in the menu.
Any tarragon fan with love this (pictured above) Tarragon Chicken and Red Pepper Wrap (Take Out £3.60 Eat In £4.32) stuffed with fresh tarragon leaves, chicken breast, rocket salad and dressed with mayonnaise and tarragon vinegar.
My favourite was Sweet Potato Falafel Salad Wrap (Take Out £3.35 Eat In £4.02) filled with watercress & coriander hummus, sweet potato falafel and selection of crunchy veggies… one of the best wraps I have tasted in a longer while and healthy as well.
As name says Crussh specializes not only in food but mostly juices and smoothies, and this is very right. Their SMOOTHIES (Med £2.95 Large £3.95 Full £5.25) and SUPER SMOOTHIES (Med £3.15 Large £4.15 Full £5.65) are as delightful and surprising as the food.
One of them is Detox Cactus made of agave cactus, pineapple, lime, banana, pineapple juice & yoghurt. We were lucky enough to try this very same smoothie in alcoholic version with addition of tequila (pictured below). It's not served on regular basis at the bar at the moment, only on special events but it's worth trying and obsessive too… I'm still craving it.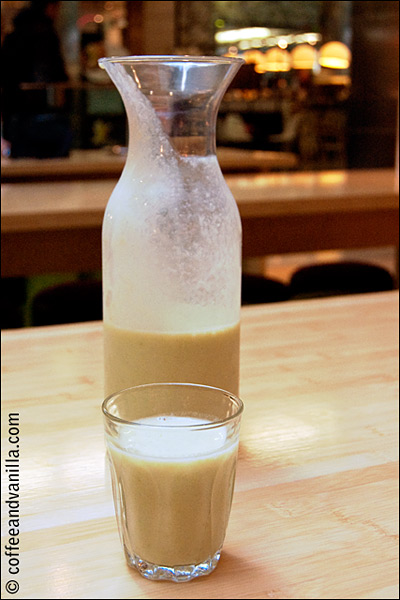 Freshly pressed juices in Crussh divide into SOLO JUICES like apple, carrot or orange (Med £2.60 Large £3.25 Full £4.25) and divine combinations of flavours and textures in COMBO JUICES (Med £2.95 Large £3.95 Full £5.25).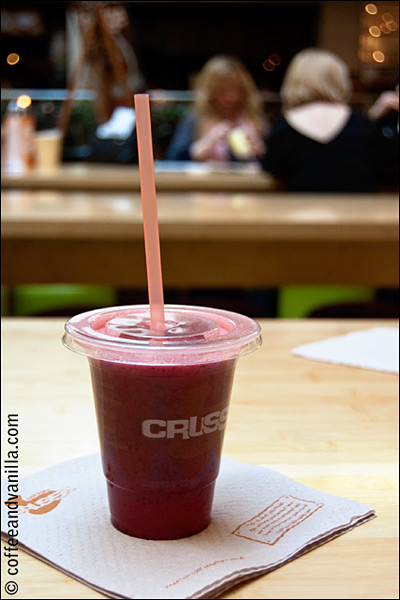 Love Juice with Passion (pictured above) is a blend of passion fruit, peach, strawberry, banana and freshly pressed orange juice.
Clean & Lean is a mixture of apple, melon & cranberry that is very refreshing, thirst quenching and light.
Tropical Crussh (pictured below) is a combination of apple, pineapple, ginger & coconut milk, thick, smooth, lightly spicy and coconut, one best juices ever, more like milkshake than juice really.
Pear & Ginger Cleanser contain pear, ginger & cucumber, it is quite watery and pepper… very similar in taste to root beer, which I'm not a big fan of but I'm sure it would find more lovers than haters.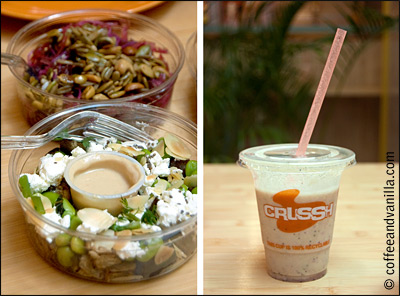 Shown above HEALTHPOTS are smaller than salads, they are ideal as a part of the meal or mini snack. I got a chance to try tree of them and I'm not really sure which one I like the best because all of them were extremely flavoursome.
Tuna Lean Bean Healthpot (take-out £2.25, eat-in £2.70) looks like regular tuna sandwich filler but it is much more than this, addition of chickpeas, kidney beans and balsamic vinegar make this little pot taste so good you can just eat it on it's own.
I liked Roasted Aubergine and Chia Seed Coriander Feta Healthpot (take-out £2.25, eat-in £2.70) because of all the flavours I adore: roasted aubergine, feta, almond, coriander and Tahini… if you like any of those flavours you will also love this salad.
And last but not least: Beetroot & Apple Hijiki Healthpot (take-out £2.50, eat-in £3.00) with quite unusual but extremely tasty combination of beetroot, apple, vermicelli noodles, cashew nuts, sesame & pumpkin seeds and seaweed… very addictive, especially crackling seaweed in it.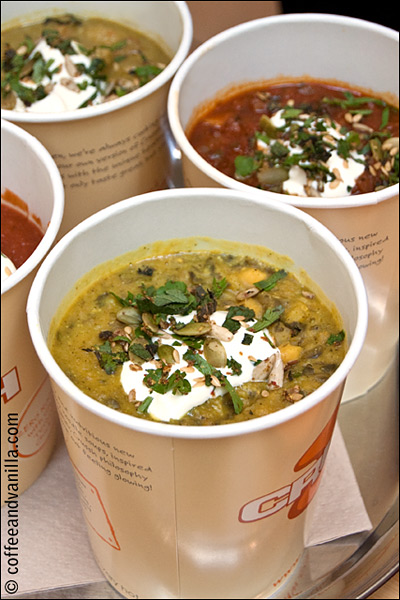 Another position on the menu are Soups, Zero Noodles & Stews… great for lunch or fast dinner.
ZERO NOODLES (£4.95) are practically calorie free as the noodles have virtually no calories.
Both Zero Noodles with Ginger Teriyaki Chicken  and Zero Noodles with Ginger Miso Tofu  were nice, light, warming. I haven't try the third variety Zero Noodles with Lemongrass Tom Yum Prawns but I'm sure it tasted the same good.
From STEWS (Petite: £4.45 Original: £5.65) I tasted Spicy Butternut Chickpea & Tomato Stew and  Green Thai Chicken & Veg Curry with coconut milk, all served with rice. I'm not really sure which one I liked more! Both of them are spicy and creamy but completely different in flavour. The first one reminds me Caribbean curries and for that reason I would probably say that I like this one a bit more.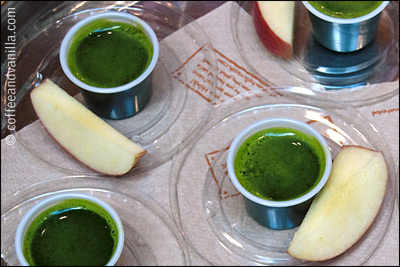 The last menu position I want to tell you about, probably the most significant one are BOOSTERS & WHEATGRASS… little shots of goodness to help you stay healthy.
Wheatgrass (£1.75 – 1oz  / £3.00 – 2oz) is said to purify blood, neutralize toxins and improves digestion. It is served with a slice of apple on a side to bite into after the shot. It is blended, juiced grass and for that reason I expected it to taste awful but I was very surprised to find the taste quite pleasant, even a little bit sweet. I was ok until few minutes after when I started feeling very strange inside my stomach… I suspect the grass started working it's purifying magic on my body ;)
Unfortunately there was not enough time and space in our stomachs to try  SUSHI wraps and salads, healthy TOASTIES PORRIDGE & BREAKFAST options or  SNACKS and DESSERTS  but you can see the whole Crussh menu here.
Crussh provides not only delicious healthy meals on the go but has also nice, informal atmosphere where you can have a quick meal or even seat down with the laptop and do some work while having lunch. Fully recommended to anyone on the go who want to have healthy balanced diet without compromise the taste. If I was working in the city I would definitely be often guest to Crussh myself.
SUMMARY
FOOD: Healthy, a bit pricey but delicious: 9/10
VENUE: Bright, minimalistic with comfortable seats: 8/10
SERVICE: Friendly, easy going: 10/10
VERDICT: Fully recommended, ideal for working lunch or for anyone on the go caring for healthy meal: 9/10
CRUSSH Canary Wharf  – Jubilee Place

Unit 21 Jubilee Place
Canary Wharf
LONDON, E14 5AB
phone: 020 7 519 6427
list of all Crussh locations
closest station: Canary Wharf

You can find this review between my other reviews on Google Local & Urbanspoon websites.
With thanks to Chris Fung from Crussh Juice Bars for the company and complementary meal on 12th of May 2012.