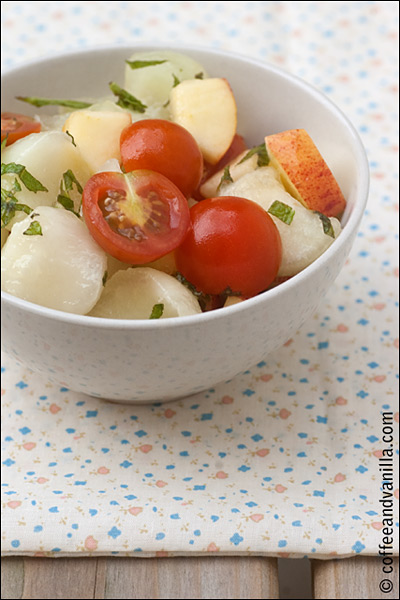 INGREDIENTS
½ large melon – I used Piel de Sapo (scooped out)
3 apples (cubed)
2 handfuls of cherry tomatoes / about 250g (halved)
for the dressing
EQUIPMENT
METHOD
Combine all ingredients for the dressing in large salad bowl.
Cube the apples or cut them with apple cutter into wedges and then slice.
Quickly add to the bowl with dressing and toss taking care to cover all of them to prevent from browning.
Scoop out the melon with melon baller, half cherry tomatoes and add also to the salad bowl.
Stir well the salad and place in the fridge for at least 30 minutes to cool down before serving.
Make 4-6 portions of salad.
NOTES
Taste good as side dish with spicy dishes such as curries.