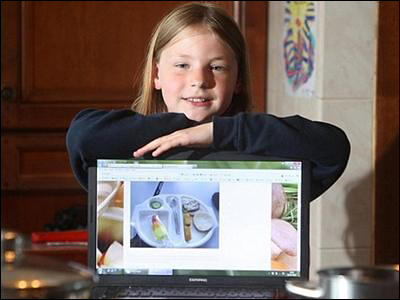 Martha Payne "VEG" from Argyll in Scotland has been taking photos and rating her school lunches on her NeverSeconds blog since April this year.  Martha gave each meal detailed ratings including: food-o-meter, mouthfuls, courses, health rating, price & pieces of hair in her meal. Together with help of her Dad Dave they brought to her website tons of readers what helped her to rise money for Mary's Meals charity.
Unfortunately yesterday she was banned from taking photos at school:
"This morning in maths I got taken out of class by my head teacher and taken to her office. I was told that I could not take any more photos of my school dinners because of a headline in a newspaper today.
I only write my blog not newspapers and I am sad I am no longer allowed to take photos. I will miss sharing and rating my school dinners and I'll miss seeing the dinners you send me too. I don't think I will be able to finish raising enough money for a kitchen for Mary's Meals either."
Please, support Martha leaving comment on NeverSeconds blog, donating to her Just Giving page or sending her photos of your school meals together with ratings to neverseconds (at) gmail.com.
Image credit: NeverSeconds blog.