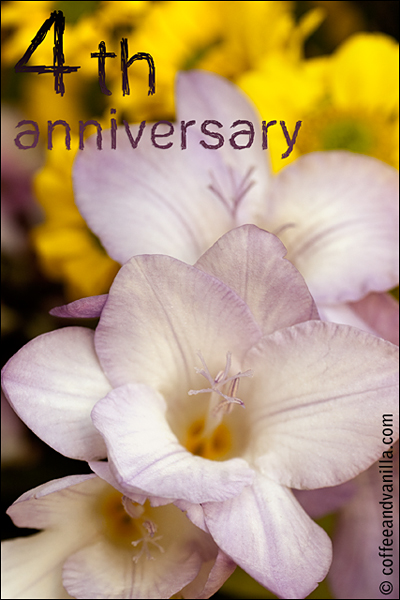 Can you believe that todays is C&V's 4th Anniversary?!
Due to our latest addition to the family I haven't been around as often as I would want to be but soon I hope to have again a little bit more time to cook and bake.
With a new blog's year I want to start calorie count on my recipes. As I mentioned previously I do not belive in diets, they don't work on me and they are too much hasle when you have family to cook for as well. But I do believe in eating less and exercising more, it does work. Also counting calories to realize how much you are actually eating is a good idea. And now with some many apps for the phones it is even easier.  So expect most of the new recipes to have calorie count included.
Except that nothing else is changing on the blog. I will be still posting as usual lunchboxes and on 15th of each month round-up of Wholesome Lunchbox event.
From time to time I will be still reviewing products that I find you may be interested in.
But lets talk about something else…giveaway!
To thank you all for reading my blog I prepared a little surprise, actually four of them. Next week from all the people who will write the comments I will randomly select four names. Entries from all over the World are more than welcome.
All you have to do is:
Leave a comment under this post before midnight Sunday 10th of April (London, UK Time) .
State if you prefer dinosaurs or hearts? :)
Don't forget to leave a valid email address so I can contact you to discuss shipping in case you win.
For extra entries:

Good luck Everyone!
UPDATE
Thank you for all your comments. Entries for this giveaway are now closed and the winners has been announced here.