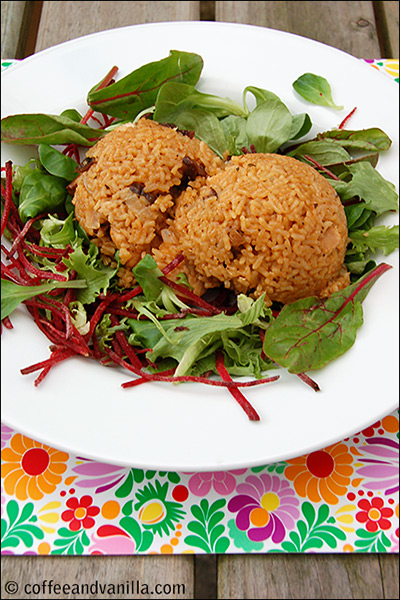 INGREDIENTS
6 cups of boiling water
handful of dried wild mushrooms (crushed)
3 mushroom or vegetable cubes – optional
1 large onion (diced)
olive oil
3-4 chicken breasts (cubed)
1 tbs smoked paprika
1 tbs Caribbean herbs (or some marjoram and oregano)
3 cups of rice (I used broken basmati)
Maggi sauce – optional
butter
sea salt
mixed leaves with shredded carrot or beetroot – to serve
METHOD
Place crushed mushrooms and the cubes (if used) in a jug with boiling water and leave aside for about an hour.
In a large pot fry onions on oil, stir in also chicken breast and fry some more, until browned.
Stir in smoked paprika, herbs and rice, pour over water with mushrooms.
Reduce fire and cover the pot, cook until rice is ready.
Season to taste with salt, Maggi sauce and some butter.
Serve on a bed of leaves.
Serves 4 – 6 people.