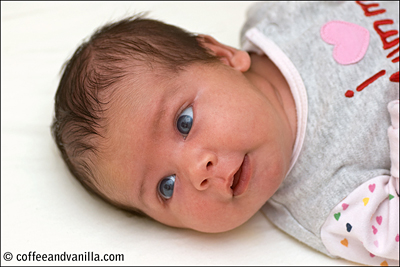 This is a long overdue article that I was planning to post ages ago, just after my younger daughter was born… but I completely forgot and only found it now, in my drafts.
As a second time mother I have knowledge I wish I had with my first baby. It would save me a lot of time… and money. During my first pregnancy I bought many things that were no use after all and at the same time there were things I wish I had but I found out about them too late. So when I was preparing for the second baby I knew already what I really need… however Ella still managed to surprise me being happy to use pacifiers from almost second week of her life when her sister Marissa never wanted to use them, only her thumb.
Pure cotton sleep suits with opening from top to bottom are the best for the first weeks or even months. They will save you time while changing baby diaper (circa 10 times a day). They are also easier to put on little wiggly baby than traditional clothes like shirts, dresses and trousers. Sleep suits will stay in place while shirts will always go up leaving your baby belly uncovered.  You won't be able to use most of the trousers anyway until the belly button will heal. On colder days body suit can be worn under sleep suit to keep your baby warm. When buying sleep suits pay attention if they have integrated scratch mitts (sleeves end than can be folded over baby hands creating mittens),  those are very useful with little babies (0-6 months) that have very sharp nails.
Yellow, orange & green are ultimate colours for baby clothing, bibs, towels, blankets… they are much more forgiving than other colours in hiding stains. Plus they suit both girls and boys, so does not matter if you know gender of your baby or not, you can buy them ahead. Otherwise prepare yourself for a lot of pre-washing, stain soap bars like Vanish may find a lot of use.
Breastfeeding pillows are definitely worth investing some money in (even if you are bottle feeding). They are perfect for longer feeds and making your baby asleep. Your hands won't be so tired and you will be able to do something else while baby is feeding on you, for instance reply to some emails, have a dinner or do something with your other children.
I went for Floppeze that is great, have multiply uses and washable covers, except for Floppeze there are many other great nursing pillows on the market but none shaped like an animal… Now when my baby is not a baby any more but terrible two we are still using it to put behind our backs when reading books or using laptop in bed, she likes to ride on it as well.
Sleeping bags are more expensive but much safer than blankets to use in the night, especially in first months, then you don't have to worry that your baby will go under the shits and suffocate.
Have couple of very soft blankets ready to put your baby on the sofa, to cover while feeding when it's cold, to place in the pushchair… they are always getting dirty (babies burb, vomit, poo and pee a lot) so 4 is a good number, 2 to use and 2 to have in the wash. Additionally my second daughter decided that she does not like sleep with toys but she has her favourite blanket (actually 3 of them) so she drags them all over the house day and night since she started walking… and she would not fall asleep without at least holding it next to her face.
If you are going to use bottles go for system that can grow with your baby… like Philips – Avent, almost all stages fit together, you can only upgrade from nipples to soft, then hard spouts, or simply add handles to have a beaker. I used Avent product for my first  baby  and still have some Avent Magic Cups from the first time round so I only needed to buy new spouts.
Pushchair / pram – with my first baby I used baby carrier for the first couple of months and then moved straight to the stroller, it broke before my daughter was able to walk on her own. This time around due to some medical problems I can't carry baby so had to buy the whole system with the pram. I did a lot of research online and between friends and I finally got Cosatto – Cabi (Walk in The Park) with pram and pushchair in one. The main part of the pram can be also used as travel cot, it has little legs, so for the first days we were using it for baby to sleep in it during the day, to have her close to us. I was very pleased with  both pram and pushchair more that are easy to drive (even with one hand while holding umbrella or another child's hand), have everything you need included: foot muff rain cover, changing bag with change mat and looks very good. The only minus is that the back wheels are quite wide so I suspect it can be a little annoying trying to fit in smaller door, but I don't have problem with that. I can also easily go on London's buses with it.
Muslin clothes – it is important to buy quality ones that will be soft. They have thousand of uses, they are perfect to use for instance while feeding your baby, especially in first months, to put on your shoulder while you making your baby burp etc. I had different kinds but only those from John Lewis were perfectly soft from the very beginning.
Breastfeeding bras – I find them useless, especially when you have quite big bra size. They are not fitting soo good like regular bras. I use regular, wired cotton t-shirt bras, they are stretchy enough to feed baby while still wearing it. I have couple of sleeping bras (soft, not wired) that can be of use if you don't want to stain your pyjamas with milk.
Sterilizer – if you have already microwave buy only sterilizing steam container for bottles instead of buying the whole machine. Again you can buy one that fit your bottle system, I have Philips – Avent microwave sterilizer that can take about 6 bottles plus some pacifiers at one time.
Baby clothes – it is very hard to predict size of your baby and match it with the seasons so don't buy too much in advance if you don't want to end up with snow suit that will be fitting in summer and by the winter will be too small (it has happened to me already).
When baby will start eating solid foods (4-6 months) some kind of food masher will be very useful, especially if it comes with the bowl that you can use as a bowl because on the beginning amounts of food are so little that after mashing and transferring to another dish half of the food is wasting. I've been using Annabel Karmel Masher & Bowl, you can take a closer look at it here. The good thing about this masher is that even if the baby is not using it any more it can come very handy while mashing avocado for instance.
High chair – with my first baby we had an extension seat for normal chair to make it higher but she managed to trip it over and after that I was really scared to have anything like this again. So with my second daughter first we used Bambo chair, on the floor or on coffee table while feeding her… this way I could be sure she won't fall from hight. Then we moved to Totseat Portable Chair which was one of the best buys, I wish I had two of them to be able to wash them more often. We used it both at home and when travelling, wish I knew about it earlier.
Lighting – flickering and calming Philips Imageo candlelights were absolutely essential during night feeds.
Australian Lucas' Papaw Ointment is the best nappy rash cream, full stop. None of the other creams we have tried can even compare to it.
You can find some more recommended baby products in my Amazon stores: Amazon US or Amazon UK.
I will be updating this post as soon as I remember anything else worth mentioning but I would love to hear about your experiences… Did you purchase any useless baby products or do you wish you had bought something you haven't know about on time?
DISCLOSURE: I haven't been asked to write this post and I was not financially compensated by neither of the named companies. All opinions are my own.