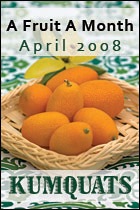 A Fruit A Month (AFAM) is an event started by Maheswari of Beyond the Usual and this month I have pleasure of hosting this event.
Recently I discovered those little delicious citrus fruits called kumquats but I'm not really sure how to use them except eating raw, so I decided to choose them for this month edition of AFAM and see your ideas :) . If you can't find them in your part of the World you can use use any other small, orange like fruits: clementines, mandarines, tangerines, satsumas etc… as long as you follow the rules:
1. Prepare any kind of dish with kumquats (or similar fruits) and post the recipe on your blog in the month of April.
2. Add a link back to this event announcement (feel free to use the logo).
3. Please send me an e-mail at coffeeandvanilla@416studios.co.uk with AFAM in the subject line, containing:
– your name
– name of your blog
– link to the post with the recipe
4. Closing date is the last day of April 2008 and the round up will be posted in the first week of May.