[adapted from Bren's Cuban-style Arroz con Leche]
INGREDIENTS
1⅓ cup plain rice
2⅔ cups water
410 g tin (almost 2 cups) unsweetened evaporated milk (I used Nestle Carnation)
397 g tin (about 1½ cups) sweetened condensed milk (I used Nestle Carnation)
1 cinnamon stick (to be removed later)
3 pinches salt
½ – 1 unwaxed lime peel (peel in one piece, not zest, to be removed later), can be also replaced with lemon, or orange peel
4 – 5 whole cardamom pods (crushed slightly with a side of knife blade)
1 tsp vanilla extract
1 tsp ground cinnamon to sprinkle
fresh strawberries or other not too sweet fruits to serve on a side (I used 400 g strawberries) – optional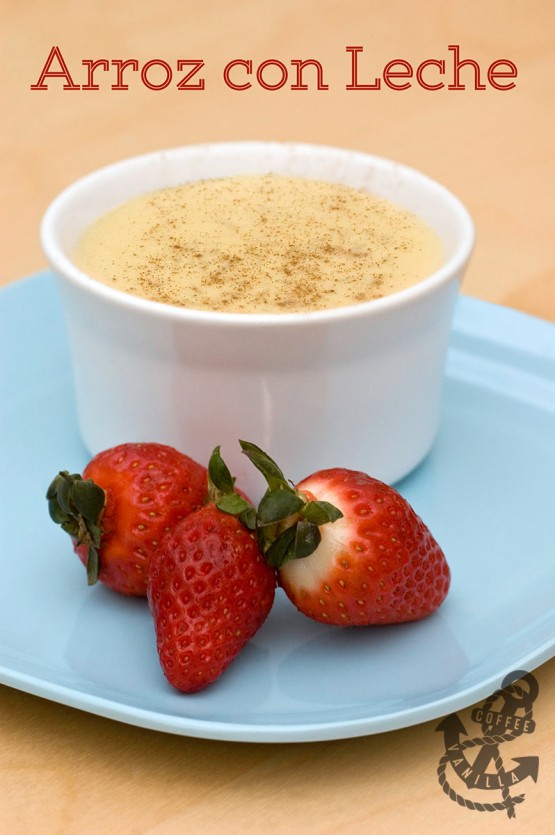 METHOD
Place rice and water in a large saucepan and bring to boil, add salt, cinnamon stick and lime peel.
Reduce fire and cook covered till rice is soft.
Stir in condensed and evaporated milks, vanilla extract and cook till begins to thicken.
Pour into small bowls, sprinkle with ground cinnamon.
Serve warm or cold, optionally with fresh strawberries or other fruits on a side.
Makes 6 servings (230 ml each).
NOTES
Arroz con leche is very versatile dish, can be served warm or cold, with addition of fruits or alone, as a breakfast, dessert or quick snack.
If you are looking for more pudding recipes Michelle has mouthwatering recipe for baked rice pudding topped with nutmeg and Jeanne made yummy looking South African Jan Ellis pudding.