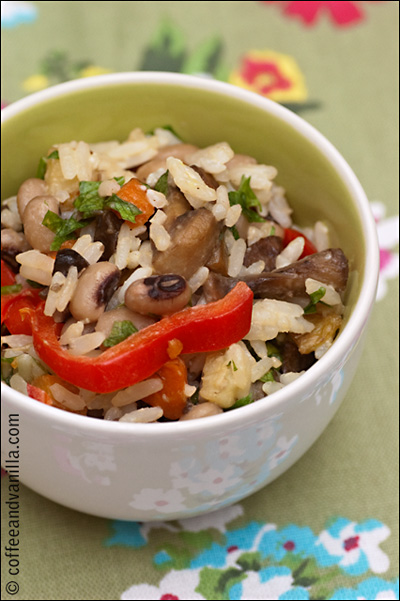 INGREDIENTS
500g black eyed beans (soaked for about 5 hours)
500g potatoes (diced)
500g carrots (diced)
1 garlic head (peeled and coarsely chopped)
3 tbs olive oil
500g button mushrooms (chopped)
3 tbs butter
large bunch of parsley (finely chopped)
2 sweet red pointed peppers (chopped)
2 cups of easy cook rice
400 ml tin of coconut milk
2½ cups boiling water
fine sea salt to taste
Cayenne pepper powder or some hot sauce
EQUIPMENT
large pot to soak, then cook beans, it will be also used to mix the salad later
pot with cover to cook rice
frying pan for mushrooms
baking tray to roast carrots and potatoes
METHOD
Drizzle carrots and potatoes with olive oil and bake in the oven preheated to 200°C (392°F) until golden brown, leave aside.
In meantime in fresh water cook previously soaked beans in uncovered pot, discarding any scum that is creating on the water's surface.
Mushrooms and garlic fry on butter with a little bit of salt until golden, leave aside.
Rice cook on medium fire together with coconut milk and water in covered pot but keep constant eye on it, reducing fire when necessary.
When beans are ready, drain them and add the rest of ingredients to the pot: roasted carrots and potatoes, fried mushrooms, cooked coconut rice, chopped peppers, parsley, season to taste with salt and Cayenne pepper or hot sauce.
Enjoy while still warm.
Serves 6 people as a main dish or many more as a salad.