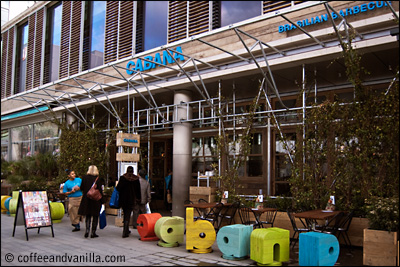 Cabana – Brasilian Barbecue is located in center of Westfield shopping center in Stratford City.
It's interior is very original, unexpected especially that you are coming inside straight from a freezing, grey, London docks. You walk into a warm interior with colourful lights that create nice moody ambience. It made me feel like in some tropical destination, without the overbearing humidity.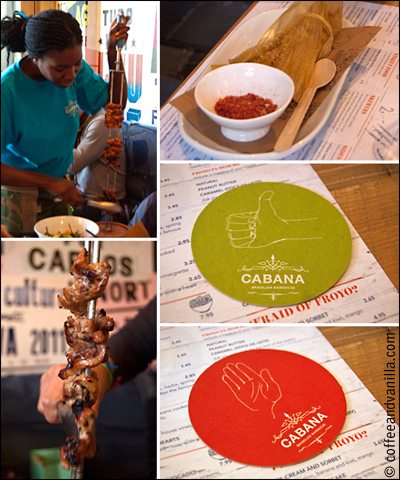 I like the system, you order your drinks (REFRESCOS), STREET FOOD, SIDES & SALADS and your friendly waitresses with SKEWERS  walking around offer you different dishes as long as your coaster is on green side, if you don't want anyone to bother you for a while just simply turn the coaster to red side.
Skewers are also divided into four colours and the price depend on them:  Green Skewers (£3.39), Blue Skewers (£4.50), Yellow Skewers (£5.45) and Orange Skewers (£5.95) per portion / two pieces in most cases.
Pictured above Sweetcorn Pamonhas (£3.35) arrived as sweetcorn steamed with cinnamon and coconut milk and wrapped in a corn husk. It was milky, sugared and delightful. Honey and Date Chicken Skewer (£4.50) was smoky, sweet and oily but scrumptious.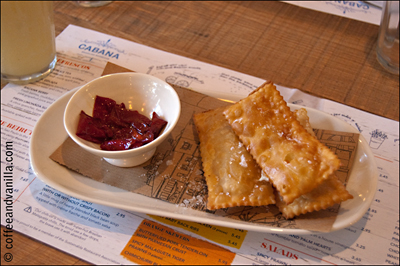 Crispy Pastels (£4.65) – pastry pockets stuffed with four cheeses and served with smoked peppers. The pastels itself did not have much cheese in them but they were perfectly crispy, salty and the combo together wish smoked peppers was amazing. One of the best smoky peppers I have ever tried. Also the Brasilian Cheesey Dough Balls (£3.95) were quite tasteful and Coriander and Peanut Pesto mouthwatering, I wish I could find out the secret to their recipe.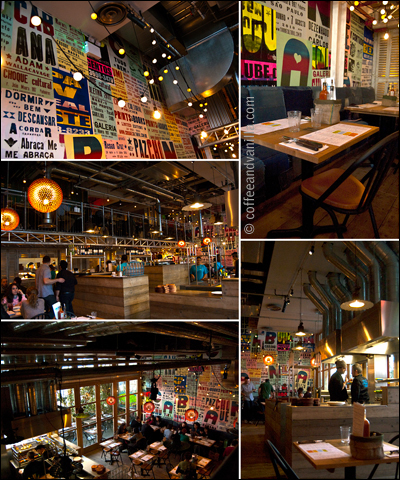 The venue is quite spacious with plenty of room for smaller and bigger groups. For couples willing to spend some alone time I would recommend tables on the floor, they were my favourite.
We were visiting Cabana on Saturday around lunch time and it was not very crowdy but I can imagine that on Friday and Saturday evenings the atmosphere is even more inviting and busy.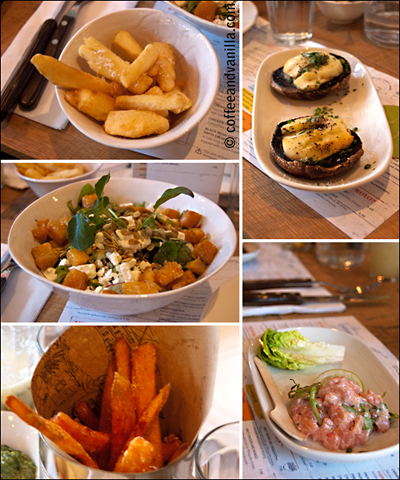 Portobello Mushroom Topped with Halloumi Cheese Skewer (£4.50) were superb and the portion contain two of those large mushrooms. Roasted Pumpkin And Avocado Salad (£6.95) was enormous, it could be easily shared between 3 people. The problem is that it was way too salty, someone in Cabana must be in love and added the salt twice by mistake. Chopped Salmon Ceviche (£4.75)  made of chilli and lime cured salmon, very strong, fresh taste for real fish lovers. Both Cassava Chips (£3.45) and Sweet Potato Fries (£3.45) were good, not too soft or to crispy… just right. The second ones were nicely presented in a tin with printed paper.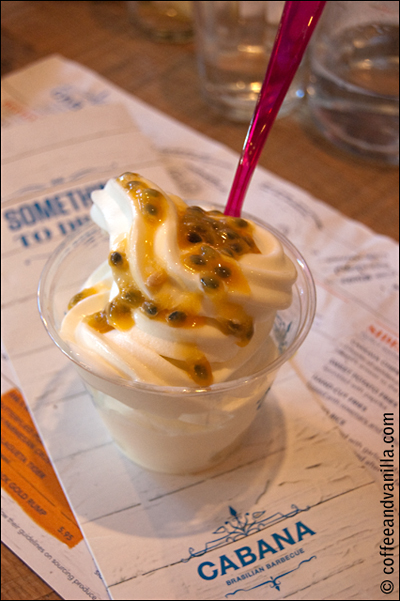 Cabana has quite large choice of froyo (frozen yogurts) with different toppings including passion fruit, chocolate and chilli fridge cake, Brasilian peanut candy (pacoquinha), Acai sauce, fresh raspberries and many, many more… It looked and tasted good, especially the Peanut Butter Froyo (£3.95 with one topping, additional toppings £0.45 each). For fans of more traditional desserts there is  selection of ice cream and sorbets and Cabana Cheesecake (£4.95) with banana and caramel, topped with roasted almonds, best ever, I would definitely love to go back to Cabana just to try it again.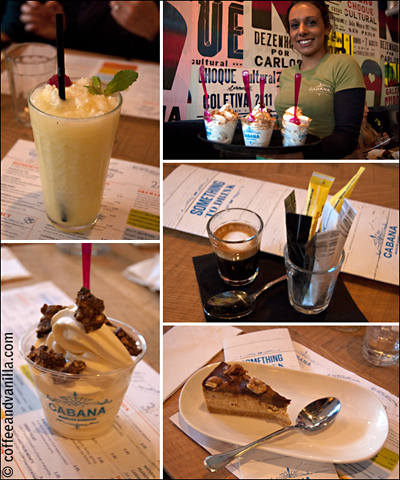 They have also large selection of drinks in separate menu. First I ordered non alcoholic Cool Colada (£2.95) which turned out too be very refreshing pineapple and coconut drink, with lots of citrus tones. I was positively surprised how flavoursome it was. Then Coffee Macchiato – very small and strong coffee with only a dot of milk. The spoon served with it seemed much too big to fit in the glass, luckily I did not have to use the sugar as I had my delicious Cabana Cheesecake to go with it.
I won't spoil your surprise but when you are in Cabana you absolutely must visit the bathroom ;)
SUMMARY

FOOD: Delicious but there is space for improvement: 7/10
VENUE: Lovely place, great decor and location: 8/10
SERVICE: Very friendly, not too pushy: 9/10
VERDICT: Fully recommended either as place to go out with friends, on a date or simply to have a lunch after day full of shopping at Westfield: 8/10
I visited Cabana together with 4 other bloggers so please read also their reviews for alternative perspectives:
CABANA Westfield Stratford City
5 Chestnut Plaza, Montfitchet Way
Westfield Stratford City
LONDON, E20 1GL
phone: 0208 536 2650
email: westfieldstrat@cabana-brasil.com
http://www.cabana-brasil.com
closest station: Stratford
You can find this review between my other reviews on Google Local & Urbanspoon websites.
With thanks to Cabana – Brasilian Barbecue for complementary meal on 3rd of December 2011 and to Michelle for organizing this.