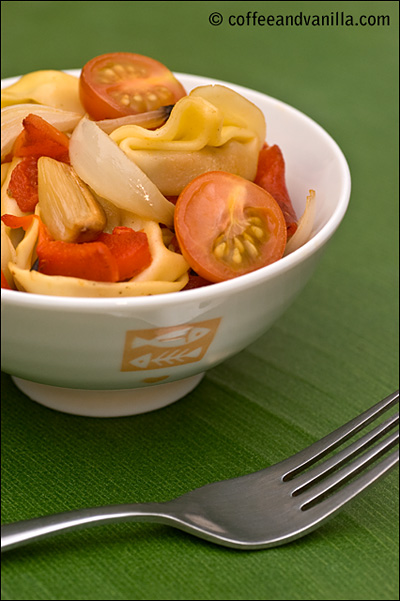 INGREDIENTS
600g your favourite tortellini (I went for sundried tomato filling)
2 onions (peeled, cut into wedges)
1 garlic head (cloves separated, peeled)
2-3 red bell peppers (roasted, cubed)
3 tbs olive oil + some more to taste
sea salt
black or rainbow peppercorns
two handfuls cherry tomatoes (halved)
mixed salad leaves – optionally
EQUIPMENT
tongs
container with lid, plastic bag or bowl and a plate
gas cooker
large pot to cook tortellini
baking tray to roast onions and garlic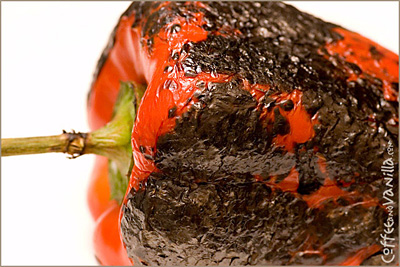 METHOD
Cook tortellini in a large pot full of salted, boiling water, for couple of minutes, drain, return to the pot, stir in 2 tbs olive oil and leave aside.
In meantime in the oven preheated to 200°C  (392°F) roast onions, garlic and optionally cherry tomatoes (or leave them raw) sprinkled with 1 tbs of olive oil, until start to get brown but are still crunchy.
Burn peppers over gas until each side is black. Place in container, cover with lid, let them steam for about 10-15 minutes. Rub of with your hands some burned skin, but not all. Deseed, cube, add to the pot with drained tortellini.
Add also roasted onions and garlic, cherry tomatoes, salad leaves and season to taste with salt, freshly cracked pepper and some more olive oil.
Serve immediately.
Make 4 servings.