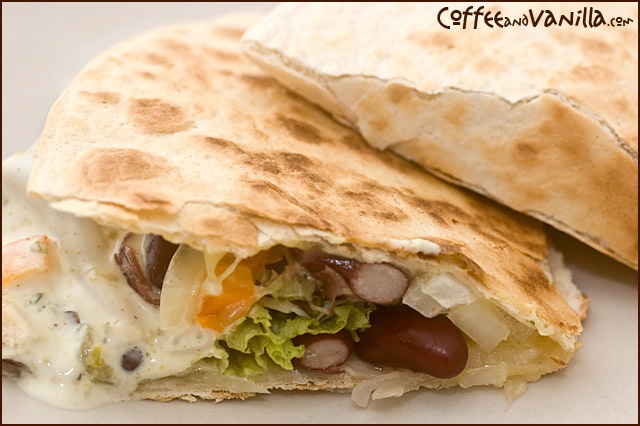 INGREDIENTS
1 medium tortilla wrap
few slices of cheese
few slices of chicken ham or pieces of cooked previously chicken
some sliced finely onion, chives or spring onion
some cubed finely sweet red, yellow or orange bell pepper
small handful red kidney beans from tin (drained)
some mixed leaves (rocket / arugula / rucola, watercress, baby spinach, lambs lettuce, endive, radicchio, apollo lettuce, lollo verde, ret batavia etc.)
grape seed oil + silicon brush or olive spray – optional
for the dressing
1 part homemade curry paste
5 parts natural yogurt
2 parts mayonnaise
EQUIPMENT
cast iron crepe pan
METHOD
Heat frying pan over medium fire till very hot, reduce fire.
Optionally spray some olive spray over the frying pan or brush with oil. Place tortilla wrap on the frying pan, cover with cheese, onions, peppers, beans and heat till cheese is melted.
Remove from frying pan, add leaves, dressing and quickly fold in half, if you wait to long tortilla wrap will turn too hard to fold.
Cut into 2-3 pieces and serve.
Makes 1 sandwich.
You can replace chicken with bacon, best grilled on cast iron ribbed frying pan before.
You can also skip the dressing, if you planning to store sandwich for many hours before eating, or keep it separate till last moment.