[recipe originally by Anne from Anne's Food]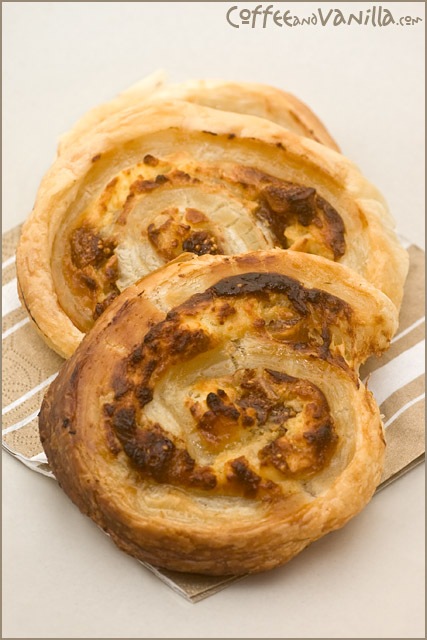 INGREDIENTS
300g feta or other salad cheese (I used cow's milk salad cheese)
250g soft dried figs (chopped)
4 tbs soured cream
2 x 500g puff pastry (removed from the fridge 20 minutes before)
1 egg (slightly beaten)
EQUIPMENT
2 baking trays
2 flexible Teflon baking sheets
rolling pin
METHOD
Roll out puff pastry on flexible baking sheets as much as possible.
Mix feta with cream and spread over the pastry. Sprinkle with chopped figs.
Roll up pastry and place it in a fridge for a while so it will be easier to slice.
Then cut it into 1 cm wide slices.
Place each slice, cut side up, on the baking tray and the baking sheet (the same that was used for rolling pastry).
Make sure not to put them too close to each other because they will grow during baking.
Brush top of each slice with an egg.
Bake in preheated oven in 200°C (392°F) for about 15 minutes till feta and figs turn golden brown and pastry golden.
Serve warm or cooled down.
Make about 35 swirls.