[adapted from book "Indian Vegetarian Cooking" by Sumana Ray]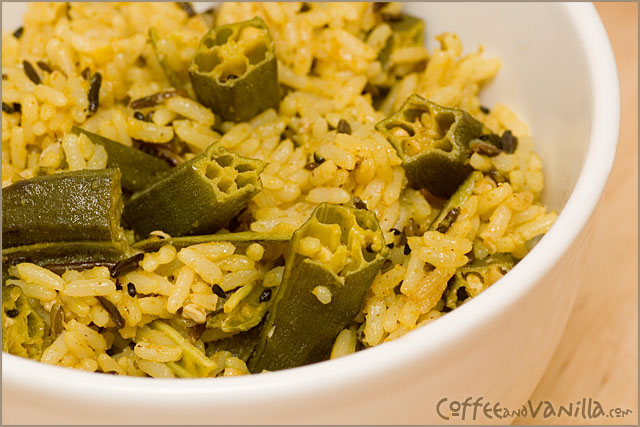 INGREDIENTS
500g easy cook long grain & wild rice
4 cups water
2 tsp mustard or 1 tsp ground mustard seeds
500g okra (washed and cut in 3 pieces)
3 tbs Carotino oil
2 hot Greek golden pepper (sliced)
salt
1 tsp black onion seeds
3 pinches turmeric
1 tbs mild curry powder
½ cup water
200g fromage frais or natural yoghurt
25g unsalted butter
METHOD
Rice cook covered with water and salt till ready, leave aside.
Rest of the ingredients except ½ glass water, butter and fromage frais, place in a large frying pan and fry till okra is soft and ready to eat.
Stir in water, fromage frais and cook some more.
Add rice, butter and serve to the plates.
Serve 4-5 people.