Best things happen by chance and this recipe is a proof!
I was planning to post nice Spanish recipe for well known travel company but unexpectedly they have changed their mind, after I have purchased some of the ingredients and props for the post already, because I did not want to agree on "follow" link in the article which is against Google guidelines.
The proper Spanish recipe is still coming, when I have a bit more time to prepare it… in meantime fusion cuisine – very quick but also very yummy turkey mince kebabs with addition of divine smelling Spanish smoked paprika.
INGREDIENTS
800 g turkey mince
½ tbs Spanish bitter-sweet smoked paprika powder / pimentón de la vera agridulce
2 whole eggs
5 – 6 tbs olive oil
1 tbs garlic powder
1 tbs dried oregano
1 tbs dried basil
1 cup breadcrumbs
½ tbs sea salt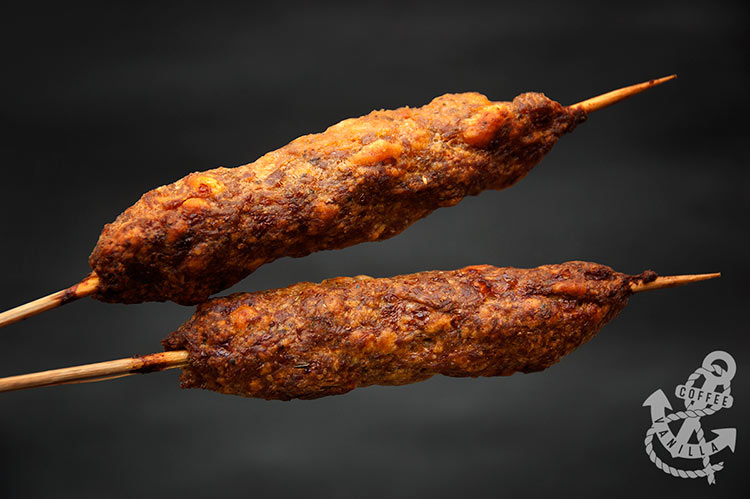 EQUIPMENT
bamboo skewers
baking tray
METHOD
Soak skewers in the water for at least 15 – 20 minutes or longer.
In meantime  combine all of ingredients for the kebabs.
Take heaped tablespoon (or two) of the mixture at the time and stick around the skewer.
Place across the baking tray.
Bake in the oven preheated to 200°C (392°F) for about 40 minutes turning occasionally
Enjoy with some bread or mashed potatoes and green salad on a side.
Makes about 10 long or 20 short kebabs, serves 5 – 10 people.
NOTES
If you don't have breadcrumbs on hand use sliced bread instead, mixing will take a bit longer but the kebabs will taste the same delicious.
If you are looking for more healthy mince recipes you may like Oven Baked Turkey Burgers, Turkey Moussaka or Turkey Meatloaf with Mixed Bell Peppers I often make in our house. You could also head to Camilla's of Fab Food 4 All to try her Brazilian Turkey Burgers with Bacon & Pineapple.