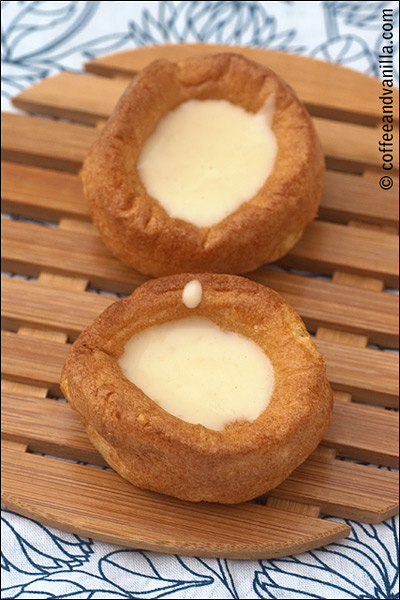 INGREDIENTS
frozen Yorkshire puddings
for the garlic sauce
3 tbs plain flour
25g unsalted butter
400 ml of boiling water
1½ vegetable cubes (10g each) or stock powder
1 tbs garlic powder
full fat milk – to taste
METHOD
Place frozen Yorkshire puddings in preheated oven according to the instructions on the package.
In meantime in a saucepan heat flour and butter stirring constantly until bubbling.
Dissolve also cubes in boiling water.
Gradually stir in bullion into the saucepan, bring to boil.
Then stir in garlic and continue cooking for couple of minutes.
Add a little bit of milk to whiten the sauce.
Enjoy served over Yorkshire puddings while still fresh and crunchy.
Makes enough sauce for 40 about Yorkshire puddings.
NOTES
Traditionally Yorkshire puddings are served as a side dish with roasted meat and gravy.
We like them either with garlic or mushroom sauce.