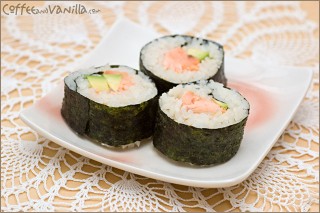 INGREDIENTS
2-2½ cups short grain rice or even better sushi rice
4-5 cups of water (or according to the packet instructions as long as there will be 5 cups of cooked rice afterwards)
50-75g gari (thinly sliced pickled ginger)
100g ripe but still firm avocado, about half of medium size fruit (sliced lengthwise)
5 large nori seaweed sheets (8×7 in) – I used roasted seaweed sheets
5-6 tbs seasoning for sushi / sushi vinegar (rice vinegar, sugar, salt and kelp)
350g salmon fillets
3 pinches seaweed salt
1 tbs Carotino oil
wasabi paste (green horseradish paste)
soy sauce to serve
EQUIPMENT
rolling bamboo or silicone sushi mat
very sharp knife
wooden spatula / paddle to spread the rice
chopping board
pot with cover to cook rice
large bowl for the rice
non stick baking tray to grill salmon
silicone brush
chopsticks to serve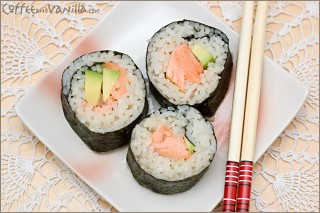 METHOD
Cook the rice in covered pot, when is ready transfer it to the bowl, stir in sushi seasoning and let it cool down.
In meantime place slamon on a baking tray, brush it with Carotino, using silicone brush, sprinkle with seaweed salt and grill in the oven with both grill and oven on in 180°C (356°F) for couple of minutes.
When rice is cooled down completely, place first seaweed sheet on the sushi mat. Place cup of rice on the top of it and spread it evenly with spatula, but leave about an inch uncovered seaweed on one end. Then closer to the other end, place avocado on rice, 2 slices of avocado, one fifth of the salmon, spread a little bit of wasabi paste on it and top with few ginger slices. Now start rolling the mat until nice roll is created. Using very sharp knife cut the roll in half, then again in half and again. It will create 8 pieces of sushi. Repeat the same with the rest of seaweed sheets and ingredients.
Serve with soy sauce on a side.
Serve 4-5 people as a snack.
It was my first sushi, so the rolls are not even and rice is not tight enough.
Maki Sushi is wrapped in seaweed, then cut into slices. Shaped rice, topped with seafood is called Nigiri Sushi. It can be also "Outside Out" Sushi, where rice is on outside and seaweed layer and topping inside, it is often rolled in sesame seeds or sprinkled with fish roe.
If you can't find sushi seasoning / vinegar, mix yourself ½ cup rice vinegar with 2 tbs of sugar and 1tsp of salt, I found this information on Hub UK website.
Wasabi paste can be replaced with regular horseradish paste.