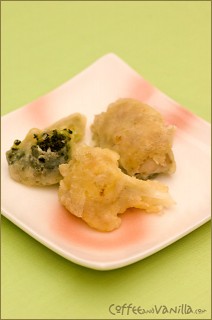 INGREDIENTS
for tempura
500g cauliflower and/or broccoli
500g white fish fillets such as Coley
500g onions
few tbs of plain flour
300g tempura batter mix (I used 2 packets of Blue Dragon Tempura Batter Mix)
800 ml ice cold water or according to the packet instructions
1 liter oil for deep frying (I used corn oil)
for the rice – optional

2 cups easy cook rice
4 cups of water
sea salt
1 tbs Chinese five spice mix (cinnamon, fennel, star anise, ginger & cloves)
EQUIPMENT
pot with cover to cook rice
deep, not too big pot for deep frying
slotted spoon
paper kitchen towels
METHOD
Divide cauliflower and/or broccoli into small florets, cut fish into stripes, slice roughly onions to create quite thick onion rings.
In one pot place rice, water, salt and five spice and cook covered until rice is ready, stirring from time to time.
In another pot place half or more of the oil, and heat it over large/medium fire.
In meantime prepare tempura batter mixing ice cold water with tempura powder.
Deep the fish in flour, then in prepared tempura batter and place in hot oil. Fry for about 3 minutes until golden and crispy. Remove from the pot with slotted spoon, place on paper towels to get rid of excess oil and leave aside. When all fish is fried place cauliflower/broccoli and onions in the tempura batter. Deep fry the same way. Add more oil to the pot if needed.
Serve with rice or itself as a snack.
Serve 6 people as a main dish or many more as a snack.
Because it is quite heavy meal I would recommend serving it only as a snack, not main dish. It is very tasty but full of calories.