My mother loves cheesecake so for her 68th birthday we decided to surprise her with Polish style chocolate crumble cheesecake topped with walnuts.
As far as remember she has never made one herself so this recipe is based on a cheesecake I found online years ago and made many versions of it since, but for the first time with the nuts.
The result was really good, everyone loved it, even the kids who are usually rather sceptical about cheesecakes.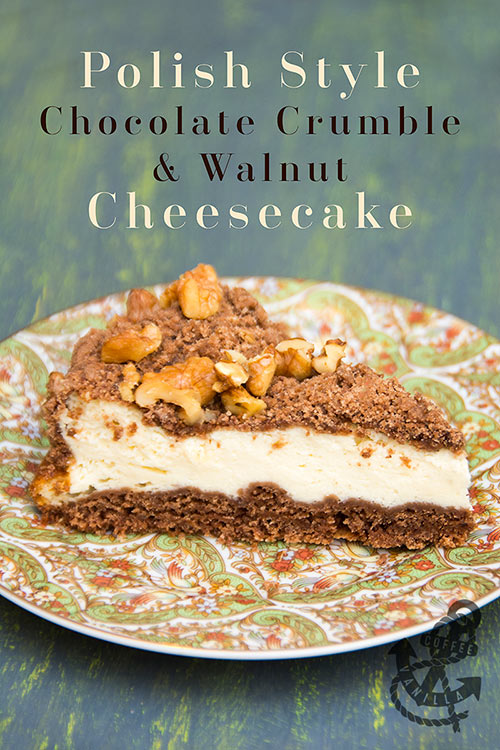 INGREDIENTS
for the cheese layer
450 g cream cheese (full fat)
3 medium eggs + 1 egg white (yolk will be used for crumb layer)
¾ cup icing sugar
1½ tbs potato flour (or other starch, for instance: arrowroot)
½ tbs vanilla extract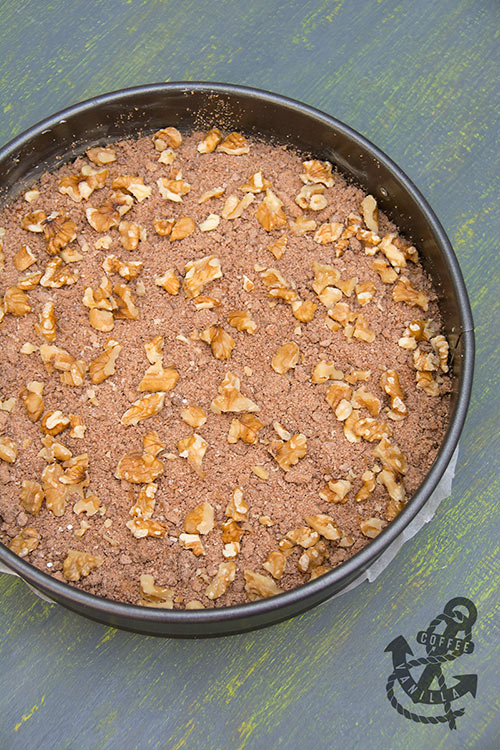 for the chocolate crumb layer
1 cup plain flour
1 tsp baking powder
1 egg yolk (egg white will be used for cheese layer)
½ cup golden caster sugar
1½ tbs cocoa powder
75 g unsalted butter – a little bit more than half a bar (chopped and softened) + some more butter to butter the tin
for the topping
1 cup of coarsely chopped walnuts
EQUIPMENT
9" (22,8 cm) round cake tin lined with baking paper
whisk
METHOD
Place all ingredients for chocolate crumbs in a bowl and mix with your hands until well combined and have crumb texture.
Spread ⅔ of the  dough crumbs on the bottom of buttered tin, even and press them slightly down.
In another bowl combine all ingredients for cheese layer, except for the egg white – beat it to add at the end.
Carefully pour cheese mixture over dough crumbs in the tin.
Combine the rest of the crumbs with walnuts and sprinkle over the cake.
Bake in the oven preheated to 180°C (356°F) for about 1 hour 10 minutes.
When you are half way with baking you can reduce temperature to 150°C (302°F).
Use wooden skewer to check if cheese is set properly before removing from the oven.
Once cheesecake is baked, leave it to cool down completely, cover in the tin with cling film and place in the fridge for couple hours or even overnight.
Serve cold.
Makes 10 – 12 servings.
TIPS
Walnuts can be substituted with pecans or even hazelnuts.
NOTES
You may also want to try Strawberry Crumb Cheesecake or Blueberry & Chocolate Crumb Cheesecake that are made with similar crumble crust.
As the recipe has been recreated from my childhood memories and I used here inherited after my granny set of tableware, I'm adding this to the Inheritance Recipes that we co-host together with Solange of Pebble Soup. February Inheritance Recipes link-up is hosted by Solange so pop over to her blog to add links to your inherited recipes!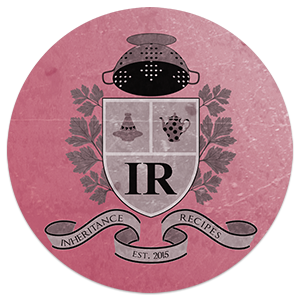 I have also some exciting news to share with you, Coffee & Vanilla will be taking Ancestry DNA tests shortly so we may discover some exciting roots that will inspire even more Inheritance Recipes, stay tuned…
For more cheesecake recipe ideas take a look at Angela's Eton Mess Cheesecake, Jacqueline's Oreo and Caramel Cheesecake, Choclette's Chocolate & Lime Cheesecake Surprise, Helen's Individual Berry Cheesecakes or Camilla's Instant Orange Cheesecakes.