Have you ever thought how amazing it would be to have chalk that is as easy to use and intense in colour as markers? Well, this day has arrived…
Chalkola markers work just like regular markers but after drying out they look like chalk. They also come in wide selection of shades and are easy to remove from most surfaces using wet sponge or a wipe.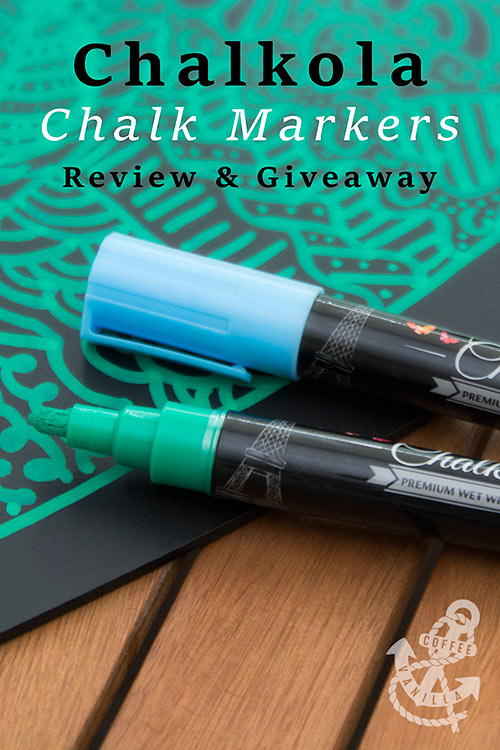 Chalkola chalkboard markers can be used on chalkboards, whiteboards, glass, ceramic, just to mention some of the uses.
My girls and I we have tried jumbo 15 mm Chalkola markers  (£14.90 per pack of 8) and set of 21 Chalkola markers (£16.90) including 15 chalk pens + 6 metallic markers (£16.90) or various project around the house and we loved how all of them turned out, without exceptions.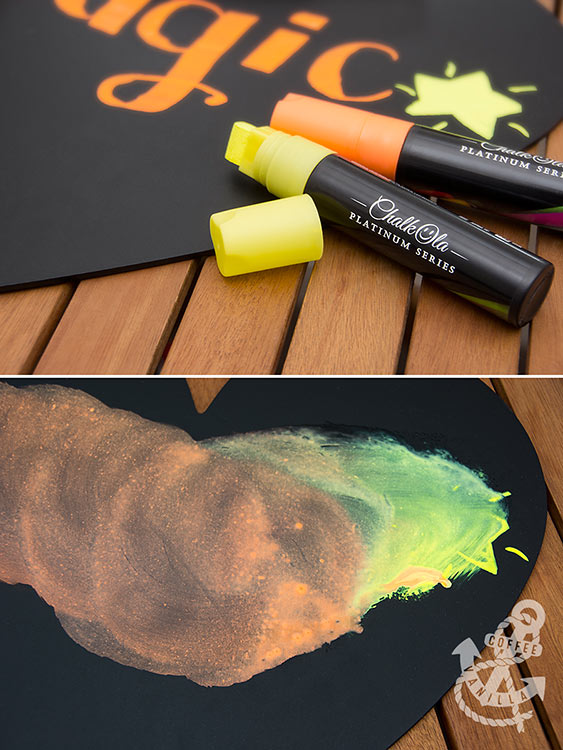 We had lots of fun with those markers decorating blackboards, whiteboards, mugs and even using some of the metallic markers on jars with sweets. They have so many uses (!)
We were very positively surprised with quality and ease of use of those Chalkola pens. They are absolutely must have at home and we will be definitely working with them to decorate other things shortly. I have feeling they will become permanent gadget in our house…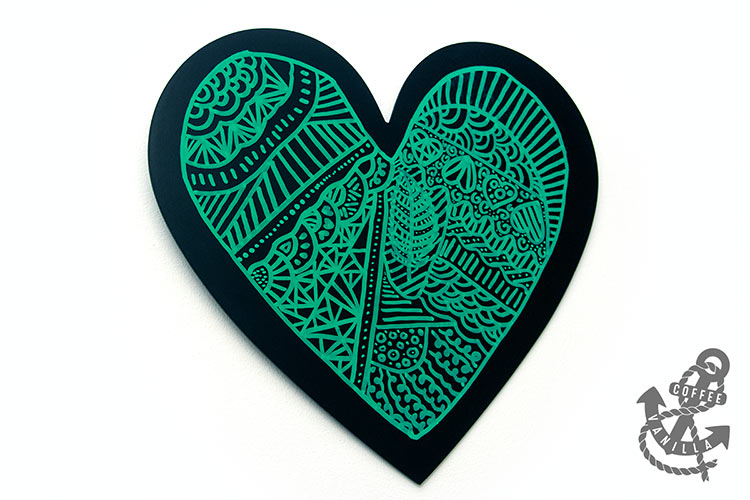 My older daughter loves writing and drawing and she created those doodles for her heart shaped chalkboard to hang on the wall.
And the best part is the fact she can wash it off and make brand new artwork whenever she wishes… so useful especially for kids and teenagers who get bored with things pretty easily.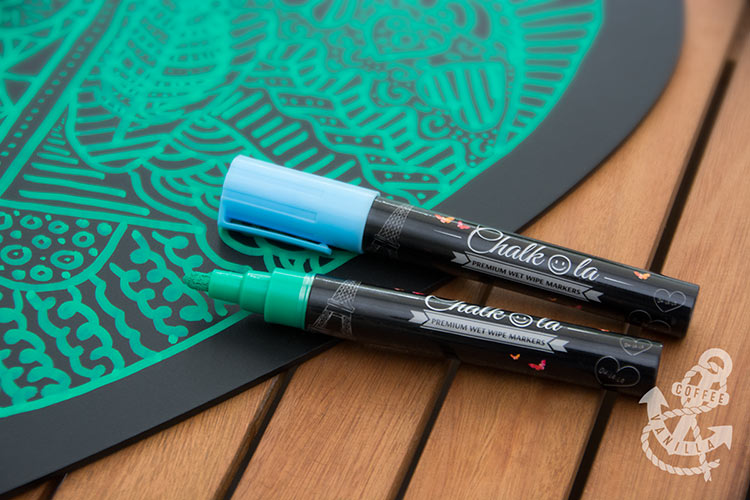 ABOUT CHALKOLA
Chalkola markers should be used on non porous surfaces like chalkboard, whiteboards, glass, plastic or windows. Porous surfaces can absorb the liquid chalk therefore they are not suitable as makers may be difficult to completely erase them.
Chalkola markers are non toxic, child safe, water based and wash off from clothes.
We have also special 15% discount for our readers on all Chalkola products (including set of 21 markers and jumbo 15 mm markers), simply use the COUPON CODE: 15OFFSTR at the checkout.
To find out more visit Chalkola chalk pens website or their social media profiles: Facebook, Instagram, Twitter or Pinterest.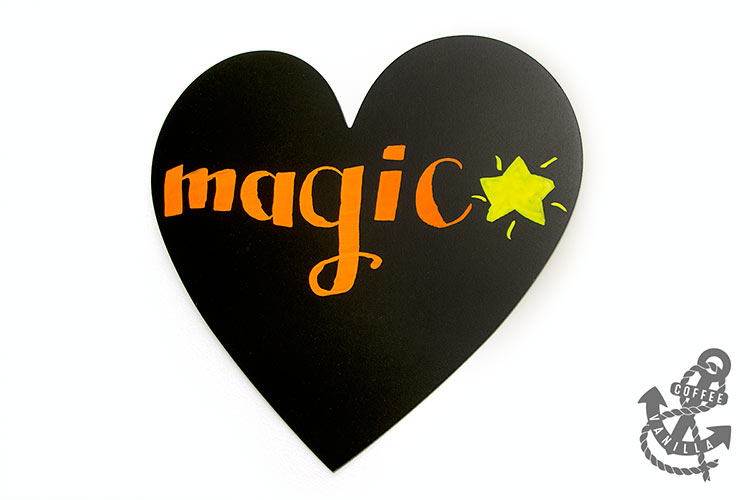 GIVEAWAY
Chalkola is giving away set of 21 chalk markers to one lucky Coffee & Vanilla's reader. All you have to do is to leave a comment saying what would you create with Chalkola markers and then use the app below to add your entry.
For additional entries you can spread the word about this giveaway on Twitter or follow Chalkola on social media.
And don't forget to subscribe to our social media channels (Facebook, Twitter, Pinterest, Google+ or Instagram) for upcoming recipes, crafts and giveaways.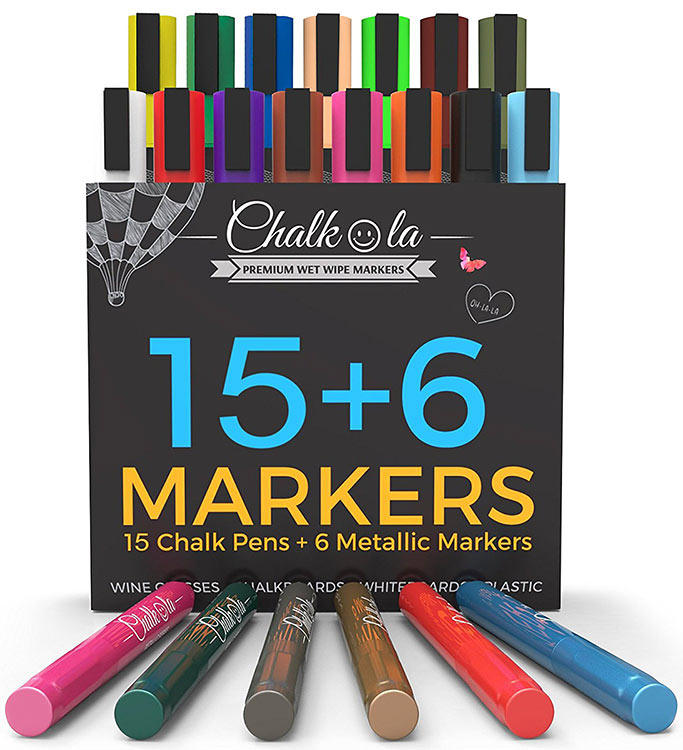 Set of 21 Chalkola Chalk Markers – Giveaway (CLOSED)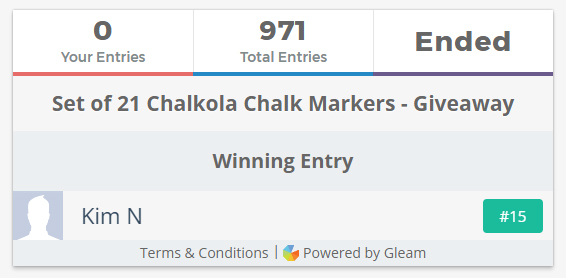 TERMS & CONDITIONS
1. This giveaway is open to entrants from UK mainland over the age of 18.
2. Coffeeandvanilla.com is running this giveaway on hehalf of Chalkola who will be responsible for sending out the prize to the winner as soon as the delivery address has been provided.
3. There is one prize – set of 21 Chalkola markers that will be send to the winner. There is no cash alternative and the prize is not transferable.
4. In case of a prize being unavailable, organizers reserve the right to offer an alternative prize of equal value.
5. Entrants agree that by entering a prize draw their personal details may be stored and otherwise processed for the purposes of administering the competition only. We will not share your information onto a third party, unless it is necessary for the shippment of the prize.
6. Any automated entries will be disqualified. We also reserve the right to reject entries from entrants not entering into the spirit of the competition.
7. The winner will be picked at random using giveaway software and then contacted by email.
8. If you win and then don't respond to our email within 7 days then another winner will be picked.
9. The closing date is 19th of March 2017 at 23.59 (GMT). The organizers reserve the right to alter the closing date.
10. Instructions form part of the Terms & Conditions.
NOTES
For more reviews take a look at our Tried & Tested series we publish on monthly basis.
If you like taking part in giveaways, check out other recent competitions from all over the UK blogosphere on Di's Super Lucky blog.
DISCLOSURE: This is commissioned giveaway organized for Chalkola. We have also received complimentary Chalkola markers for review purposes. All opinions expressed here are our own and we retained full editorial control.