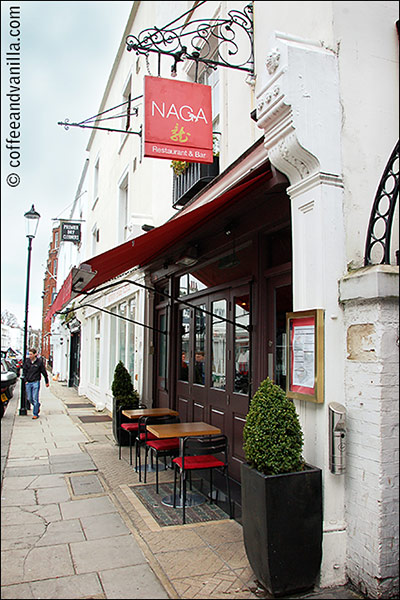 Naga Restaurant & Bar in Kensington, serving Chinese but also other Pan-Asian dishes, is fourth Oriental restaurant I had a chance to visit in London and by far the best one of them. It's a pity that we have visited Naga on quiet Saturday's early afternoon so we haven't really got a chance to experience the atmosphere and dynamics of the place…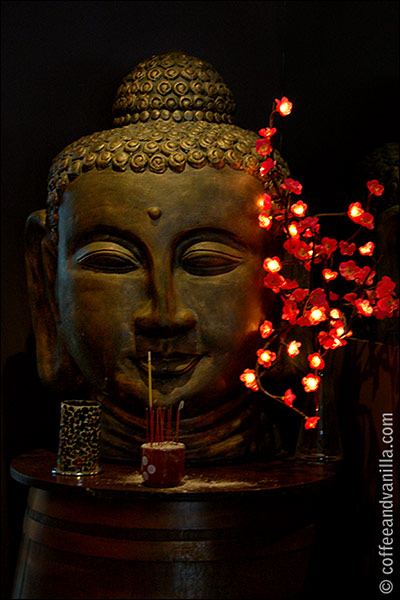 My companions during this lunch were as usual: Michelle & Jeanne and for the first time The Girl.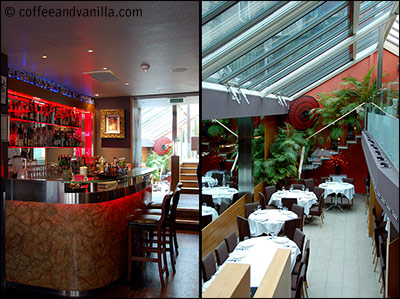 Naga interior compromises moody bar area with bright, full of mirrors and topped with glass roof dinning area… so you can always find perfect spot for yourself regardless if you are attending business lunch or are on a romantic date.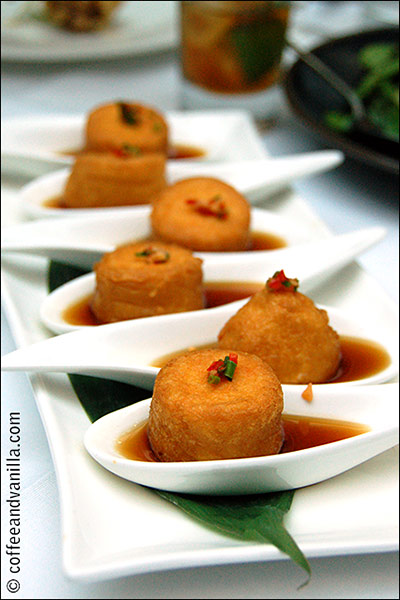 One of my favourite dishes was Silken Tofu with Ginger Dressing (£5.70) – truly mouthwatering starter, crispy on the outside with very smooth and soft inside, must try for anyone visiting Naga.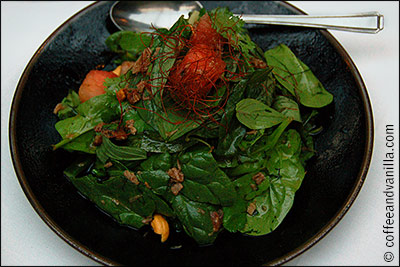 The second dish on my favourites list would be Duck & Watermelon Salad (£8.50) – unusual but at the same time remarkably well matched combination of flavours: sweet watermelon, salty duck and flavoursome herbs, I could not have enough of it!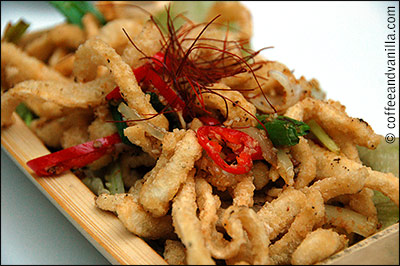 I haven't tasted Crisp Chilli Salt Squid (£7.50) but I loved the styling and the dish it was served in!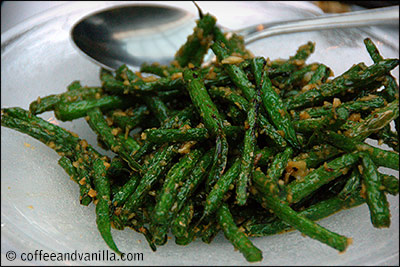 Garlic French Beans (£7.50) were also quite good, perfectly cooked yet still crispy, salty and extremely addictive.
Canton Style Lobster Noodles (£29.90) – the whole lobster served whole on the bed of egg noodles. The lobster was looking impressive and horrendous (probably because of the bright red colour) at the same time, I haven't had enough courage to try it.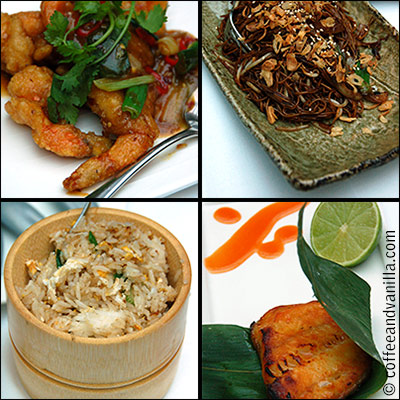 Other dishes that we have tried were, starting from top left, battered Tamarind Prawns with Lemon Grass (£12.90), Singapore Vermicelli Noodles (£9.50) – I really enjoyed this dish even through the noodles were a bit too salty, Egg Fried Rice (£6.00) – tasty but excessively oily, Naga Black Cod (£19.50) was presented nicely, cooked to the perfection but the strong, sweet flavour of miso was too overwhelming to my liking.
For alternative views on Naga please read reviews of my fellow bloggers:
SUMMARY
FOOD: Interesting, tasty, with room for improvement: 7/10
VENUE: Spacey, bright, pretty details: 7/10
SERVICE: Friendly, attentive: 8/10
VERDICT: Recommended, would definitely visit again: 7/10
NAGA

2 Abingdon Road
LONDON, W8 6AF
Open: until late, Mondays closed for lunch.
phone: 02036418308
http://www.nagarestaurants.co.uk
closest station: High Street Kensington

You can find this review between my other reviews on Google Local & Urbanspoon websites.
DISCLOSURE: I enjoyed this complementary meal on 13th of April 2013 as guests of Naga.  All opinions are my own.