This little matchbox calendar is inspired by my own childhood memories although we were making similar matchbox chest of drawers not as a calendar but storage for little treasures.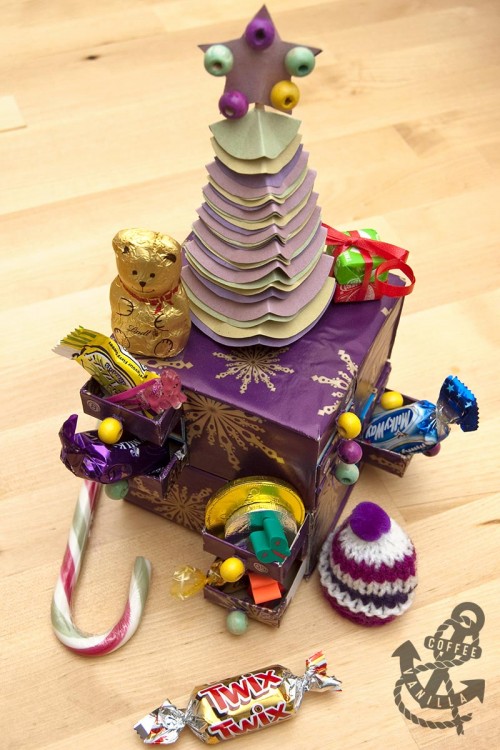 MATERIALS
for the calendar itself
24 small empty matchboxes
scraps of wrapping paper
24 beads for drawer's handles
about 5mm tall numbers from 1-24, you can print template from here
two pieces of cardboard approximately 9×9 cm each
sweets and little gifts to fill the drawers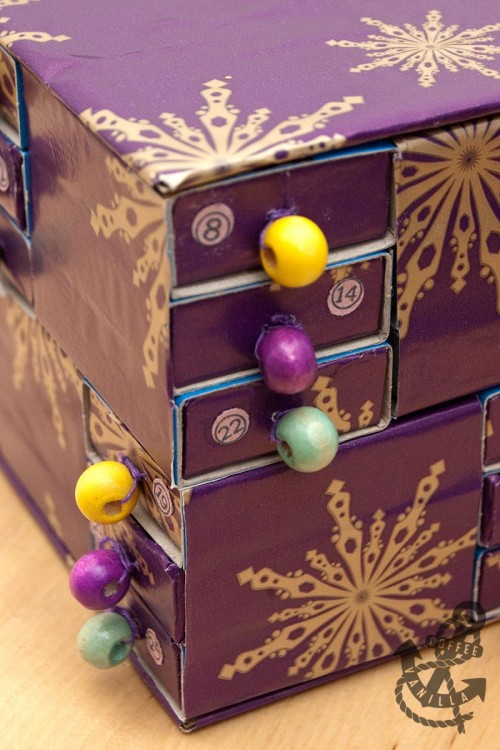 for the Xmas tree decoration
about 8 different sizes of circles from colourful paper in 4 colours and two stars, you can print template from here
skewer
about 5 beads to decorate the star
some little chocolate figurine
square sweets tied with the ribbon to imitate the gift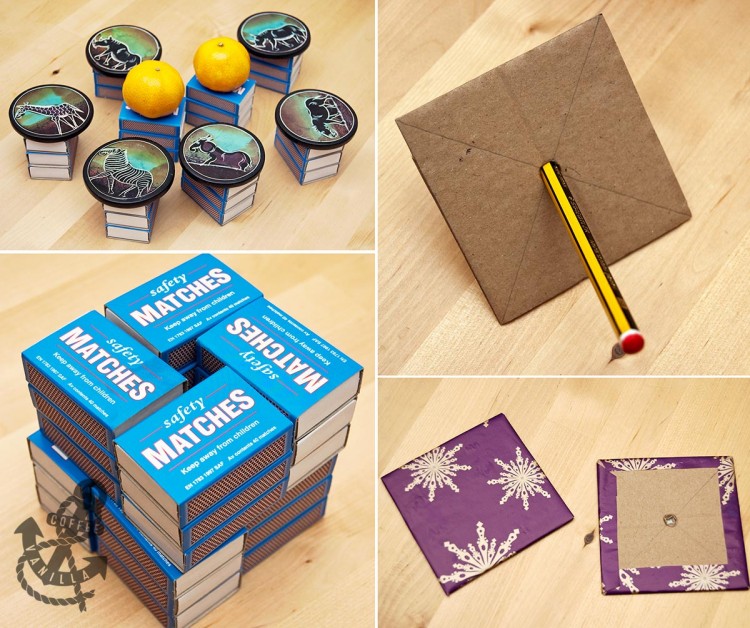 EQUIPMENT
scissors
printer
non toxic glue
double side tape
some thread and the needle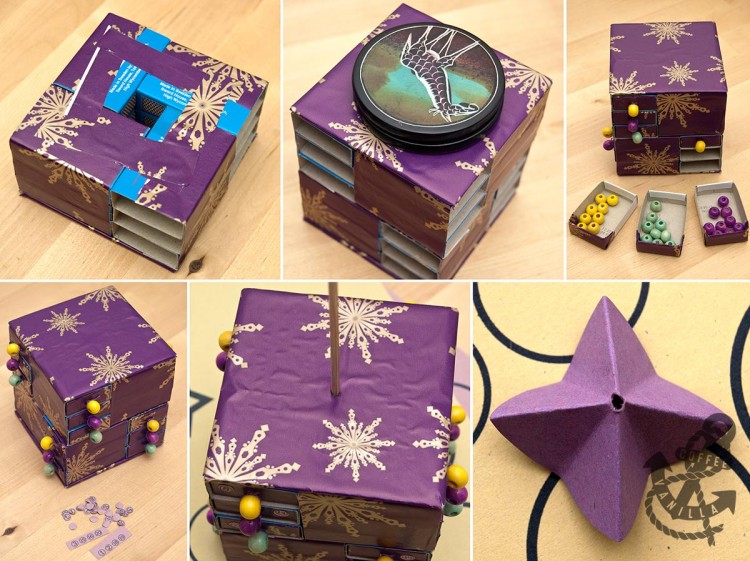 METHOD
First glue together sets of 3 boxes, top them with something heavy to help them stick properly.
Once the glue dried arrange them into cube and cover visible sides of each triple box with wrapping paper.
Make a hole in the middle of one of the cardboard squares (using a skewer or even a pencil) and cover both of them with wrapping paper on one side.
Turn cardboard piece, the one without the hole, upside down and start creating chest of drawers on the top of it.
Then with scraps of paper stabilize the construction sticking little pieces of paper across the cracks.
Once all the drawers are stuck tightly together stick the other piece of cardboard on the top and leave aside until dry.
In meantime cover visible sides of each drawer with wrapping paper, then sew the beads on them  creating little handles.
Then print out  numbers from 1-24, I made them 5mm tall, you can use this template if you wish. Cut them out with the hole puncher and stick the numbers randomly to the drawers.
To make the tree print out 4 sets of circles (the biggest about 6.5 cm diameter, you can use this template) on different colour papers, cut them out, fold each circle four times like on the above image. Pierce with the skewer in the middle.
Once all circles are done push the skewer through the paper in to the hole in the middle of cardboard on the top of the chest of drawers. Stack on it all the circles starting from the biggest and finishing with the smallest.
At the end shorten the skewer leaving out just about 2 cm extra. Cut out two stars from the paper and stick together on the top of the tree, decorate with some beads.
Stick also to the calendar little sweets and figurines and don't forget to fill the drawers with little toys and sweets.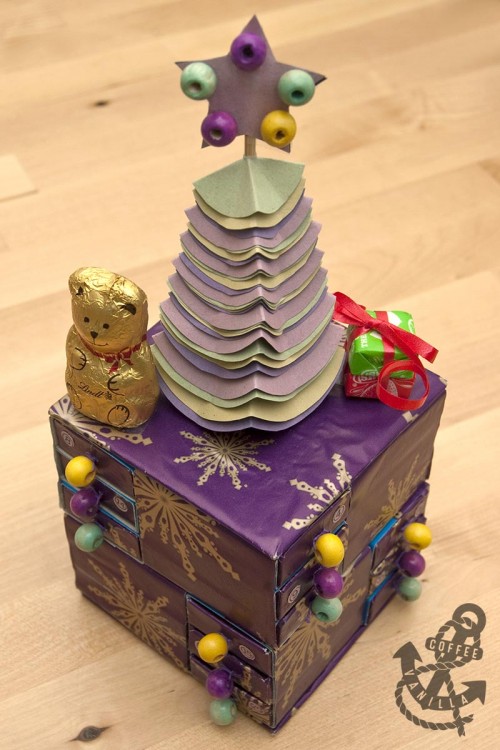 NOTES
If you are looking for more Christmas calendar ideas take a look at our other countdown calendars.
DISCLOSURE: This post contains some affiliated links.