I made this cake for my daughter's 10th birthday, on her request, and it is based on our favourite fruit sponge cake we were making for years, but never with raspberries before.
It turned out great and easier to make as we topped the cake with fruits rather than trying to layer them inside.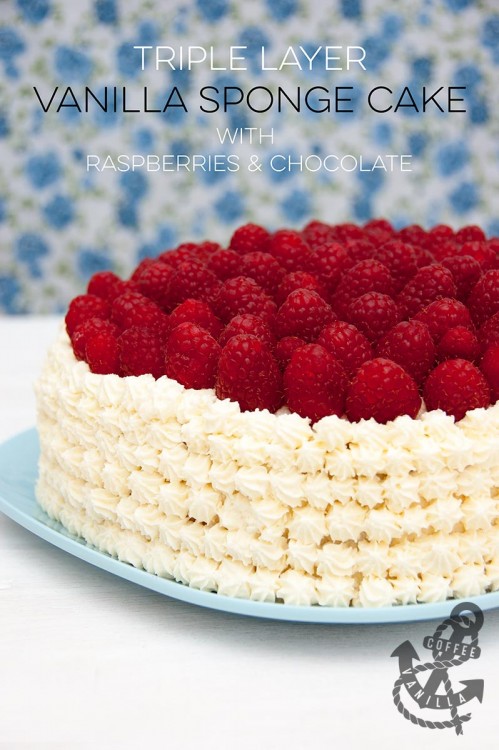 INGREDIENTS
for sponge cake
1 cup egg whites and ½ cup yolks, about 6 small eggs
1 cup golden caster sugar
1 cup plain flour
pinch of salt
1¼ tsp baking powder
1 tbs unsalted butter (softened)
seeds scraped from 1 vanilla pod
for layers
about 500 g raspberries (I got 700 g and chosen the best looking ones to top the cake with)
200 g quality raspberry jam or conserve
300 g chocolate & hazelnut spread
900 ml whipping cream
1 cup fine white sugar
EQUIPMENT
9" (22,8 cm) round non stick cake tin with removable bottom or even better 3 of them
spatula
food processor to beat eggs and whip the cream
cake stand or disposable cake base
piping syringe or bag – optional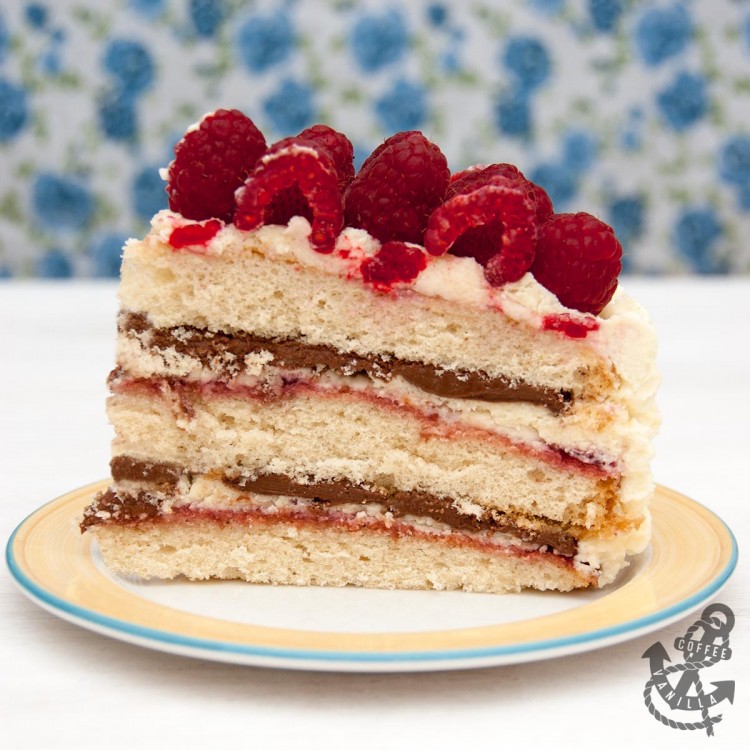 METHOD
To prepare sponge cake beat in a food processor egg whites with salt until stiff, add sugar and beat some more.
Stir in also yolks and vanilla seeds.
In a small bowl combine baking powder and flour and gradually add it to the egg mixture only until well mixed.
Pour it into buttered cake tin (if you are using 3 tins make sure that you put even amount of cake dough in each of them) and bake in preheated oven to 180°C (356°F) for about 25 – 30 minutes, until golden.
Remove from the tin and let it cool down.
In meantime wash the raspberries, choose the best looking ones and set aside.
To make whipped cream mix cream and sugar, using food processor, until thick.
When sponge cake is cooled down completely, cut it into 3 layers if you used 1 tin, using very sharp knife.
Place first layer (top one) upside down on the cake stand or cake base.
Top with half of the jam, cover with ¼ of the whipped cream and top with another layer (middle one) of sponge cake with chocolate spread underneath it.
Spread the rest of the jam on the middle layer and top with ¼ of the whipped cream.
Cover with the last layer (bottom one) of sponge cake with layer of chocolate spread again underneath. Make sure to turn the last layer upside down so the hard and levelled part is on the top.
Spread  the rest of whipped cream all over the top and sides of the cake. You can use syringe to help you cover the sides as I did.
To finish off top the cake with raspberries.
Place in a fridge and let it cool down for about 2 hours.
Make about 12 – 14 servings.
NOTES
If you have any raspberries left make some Raspberryade or Raspberryade Ice Pops.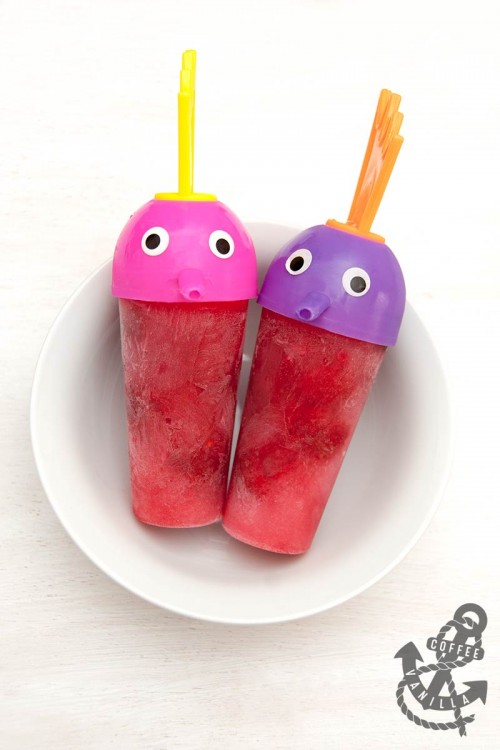 If you are looking more raspberry dessert inspirations, check out Camilla's Raspberry, Almond & White Chocolate Muffins.
For other berries take a look at Smurfberry Muffins, Bramble Sorbet Icicles or Strawberry Cookie Crumb Cheesecake we made.
I'm submitting this recipe to The 30+ Blog Collective link-up.