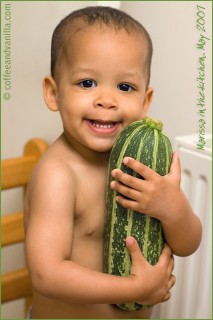 Talking the other day on Twitter to Susan of Food Blogga I realized that I'm very lucky mom of children that don't have big problem eating vegetables, and even want to eat them.
My 3 year old daughter loves peas, beans, tomatoes, basil and any other leaves (she can just east them on their own)… everything. The only food I find she have problem with are little foods that are mixed and she does not know what is inside, like couscous salad. But if I give her all ingredients before I mix them, she will eat most of it.
Since she was very small I let her help me in the kitchen, watch, unpack Maggi cubes etc… she is always in the kitchen with me. I take her also to do grocery shopping and let her choose some of the fruit and vegetables. We always try to buy something that she has never tried, most of the time she loves it because she chosen it. Like pod peas that are in season now, she loves to peel them and then eat them steamed (Microwave Steamed Pod Peas).
Until a while ago Marissa had aversion to rice, she did not like it… till I let her stir butter and spices in the pot of rice so she could see how is it made… since that time rice is not a problem any more.
Different story with my step son that is now 13. When D'wayne came to live with us he was 9 and would not want to eat anything except fried chicken and macaroni & cheese. He grow up eating unhealthy and getting rid of those habits took me few years but now he eat most of fruit and veg without bigger problem… of course he still like to eat some fried chicken or burger when he is not at home, but who doesn't do that from time to time.
Of course children loves sweets and you can't completly cut out them from their diet, but you can reduce it. I do buy some little sweets for children, but only little packages such as surprise eggs, happy hippo, small chocolate bars. With the yournger one it is very easy as she loves fresh and dried fruits, nuts same much as sweets.
Replace fast food with healthier versions, all children love fries so why don't you bake them instead of frying (Baked Potato Slices), or make Beetroot Brownies for dessert.
So my advise is:
Feed them with fruit and veg before they know they don't like it, before they can walk or talk.
Don't give up, with older children it can take few years, it is hard to change old bad habits.
Engage little ones in your shopping and cooking, let them choose and help to prepare.
Reduce ready foods and sweets but let them have it from time to time.
If you cook and eat healthy yourself, your children will follow you.
The sooner you start introduce your child to all kind of healthy foods the better, hopefully later those childhood experiences will change into healthy eating habits and love for good food ;)
And what are your tips and tricks to make your children eat healthy?