[recipe adapted from "Pocket Cookbook" by Mollie Thomson, Rosalba Gioffre & Sara Vignozzi]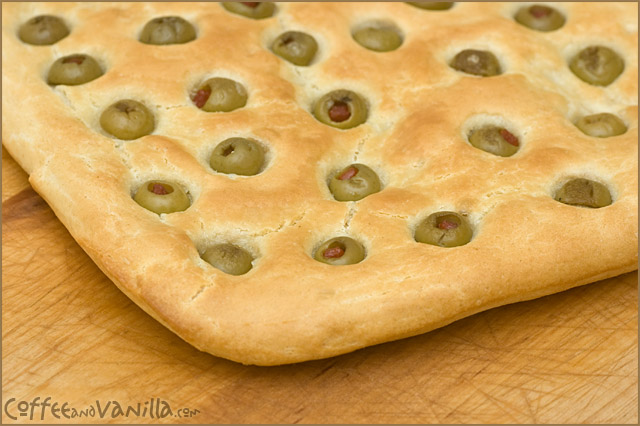 INGREDIENTS
800g plain white flour (5 cups)
2 tbs dried instant yeast
1 tsp sea salt
6 tbs olive oil plus some more for brushing baking trays and top of focaccia
450-500 ml lukewarm water
2 tsp caster sugar
200g pitted green olives (can be stuffed)
EQUIPMENT
pastry brush
2 large baking trays or several smaller ones
METHOD
Combine some of the water, sugar and yeast, stir and leave aside for 10-15 minutes in warm place.
In a mixing bowl place flour and salt, add yeast mixture, 6 tbs of olive oil and some of the water.
Stir with the spoon adding water gradually. Remove from the bowl and knead of floured surface for 10-15 minutes.
Place back in the bowl, cover with tea towel and leave in warm and quiet place for 1½ hour to grow.
Knead again for 3 minutes, then divide dough into two parts and spread it on oiled baking trays. You can also use more smaller baking trays or make more smaller focaccias and place them on large baking trays.
Cut olives in halves and push them into dough. Brush focaccias with olive oil and bake in preheated oven to 200°C (392°F) for about 20 minutes till golden brown.
Serve warm or cooled down.
Focaccia taste good itself, as a sandwich bread or side dish with a soup.
This recipe make 2 large focaccias.
* This little focaccia on the picture was made by my 2 years old daughter :)