[recipe inspired by Susan from Food Blogga]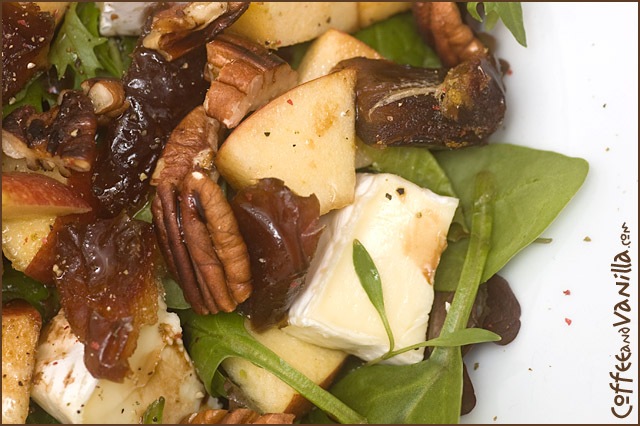 INGREDIENTS
100-120g leaves (baby spinach, mizuna, rocket / arugula / rucola, watercress, lettuce or mix of different leaves)
½ cup of nuts such as pecans, walnuts (chopped), pine nuts or flaked almonds
2-3 apples/pears (about 500g) or other similar fruits (cored and sliced)
200-250g cheese: brie, camembert, any yellow cheese, mozzarella or other cheese
½-⅔ cup of chopped fresh dates/ whole raisins or any other dried sweet fruits
olive oil
balsamic vinegar or lemon juice
salt to taste – optional
rainbow peppercorns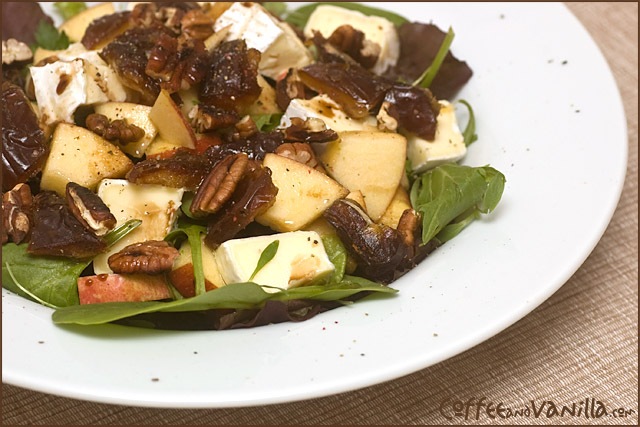 METHOD
Prepare four deep plates. Share washed and drained leaves to the plates.
Place sliced apples/pears on the top of the leaves. Then add sliced cheese.
Sprinkle over dates/raisins. If using raisins soak them in boiling water for couple of minutes before, drain and then sprinkle.
Toast nuts on frying pan for couple of minutes till fragrant, then chop them if needed and also sprinkle over the salad.
Season with olive oil, balsamic vinegar/lemon juice and freshly ground peppercorns.
Serve immediately with fresh, best homemade bread.
Serve 4 people as a lunch dish.
* Recently I make all kind of variations of this salad for my lunch.