The highly successful 'Feeding the 5000' event returns to London to raise awareness of unnecessary food waste in the UK and demonstrating and educating on ways we can reduce waste.
The Feeding the 5000 team, with the support of the Mayor of London and in partnership with Fareshare, FoodCycle, Love Food Hate Waste and Friends of the Earth, will treat 5000 members of the public to a free hot lunch made entirely out of food that would otherwise have been wasted, such as fresh but cosmetically imperfect fruit and vegetables.
The event will be opened by Mayor Boris Johnson, who will serve the first bowl of curry, with demo's from a host of celebrity chefs, and Tristram Stuart, award winning campaigner and author of book on Waste.
Londoners are invited to join this free lunch in Trafalgar Square between 12.00 pm – 2.00 pm on Friday 18th of November 2011.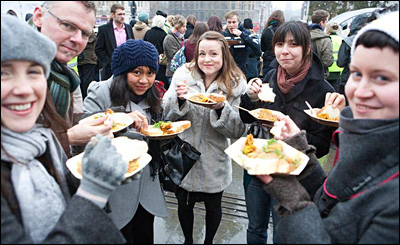 Feeding the 5000 Event
LOCATION: Trafalgar Square, Lon­don, UK
DATE: 18 November 2011
TIME: 12.00 pm — 2.00 pm
ORGANIZER: Feeding the 5000
ADMISSION: Free
BOOKING: N/A – First come first served.
With thanks to Greta from Feeding the 5000 for images of Feeding the 5000 Event in 2009.