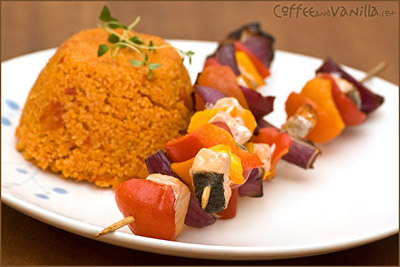 INGREDIENTS
for the Fish Kebabs
500g fresh fish fillets – I used salmon (cubed)
2-3 sweet bell peppers – red / yellow / orange (cut coarsely)
large red onion (cut into wedges) or 4 handfuls of olives
olive oil
sea salt, seaweed salt or Adobo seasoning
black peppercorns
for Tomato Couscous
300g couscous
½ tbs garlic puree
400g tin of chopped tomatoes
sea salt to taste
olive oil
EQUIPMENT
8-12 bamboo skewers (soaked in water for 1 hour)
METHOD
Place fish, peppers, onion in a container, season with olive il, salt and freshly ground pepper and leave aside for a longer while.
In meantime heat olive oil on a large frying pan, stir in couscous, when hot add tomatoes from the tin, garlic puree and stir fry till all liquid is absorbed and couscous ready. Season with salt to taste.
Stick fish, peppers, onions on skewer and grill for about 10 minutes at 180°C (356°F).
Serve with couscous.
Make 4 (light) servings.