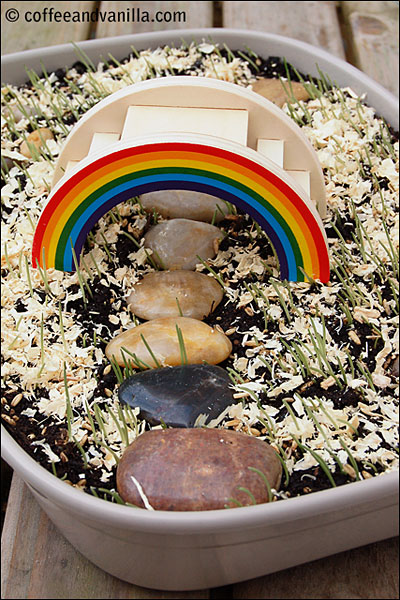 MATERIALS
cat's litter tray or other large and not to shallow container
gravel – for the drainage, as the container will have to holes on the bottom
soil for edible plants – free from fertilizers, not the one for flowers that is packed with all kinds of growth chemicals
wood shavings
hamster safe plant's seeds – grass and flowers (we used 2 packets of cat grass and less than a half packet of red clover seeds)
some more seeds to add later once hamster will eat / dig out some of the plants
large flat pebbles to create a path – optional
some kind of bridge or little hut – optional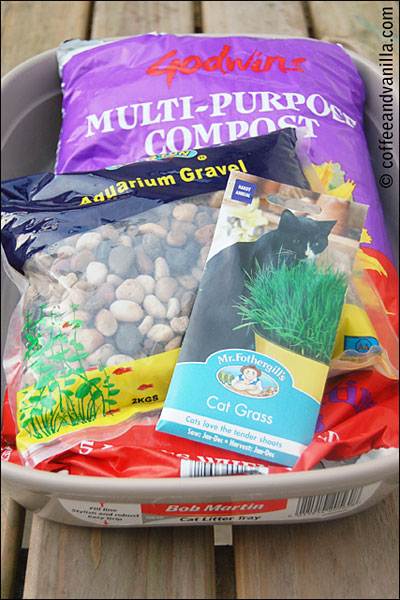 METHOD
Lay the bottom of the tray with gravel.
Cover it with soil, we used the whole 5kg.
Create path and select with the pebbles areas for flowers.
Plant the seeds.
Top the whole tray with a bit of wood shavings.
Water daily and wait couple of days for the plants to start growing.
Put the final touch to the garden adding some little bridge or wooden/straw hut (remove while watering).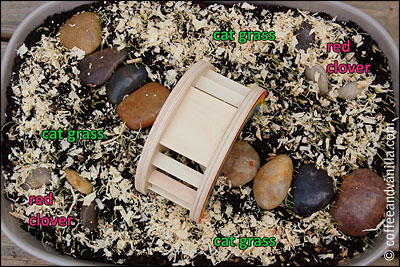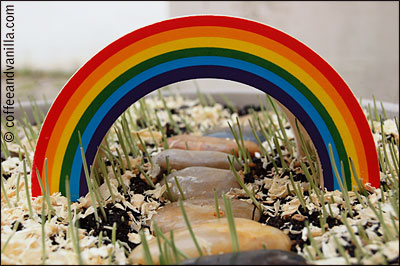 We use our garden inside metal enclosure in which we let Toffy run for a while in the evenings. Then he is placed back in his cage and we fix the garden, plant some more seeds to replace eaten / destroyed areas.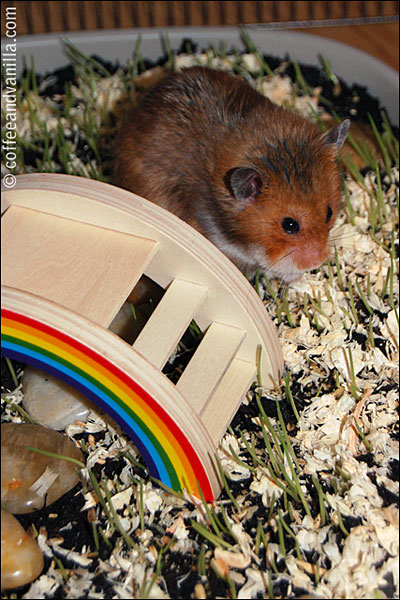 Materials & accessories used:
Small Animal Rainbow Play Bridge (£7.42 – Amazon)
2 kg aquarium gravel (£3.50 – pet store)
pebbles (£0.99 – 99p Store)
cat grass (£1.50 – gardening store)
5 kg all purpose compost (about £1 – gardening store)
red clover seeds (£1.50 – gardening store)
cat litter tray (about £2, from Morrisons)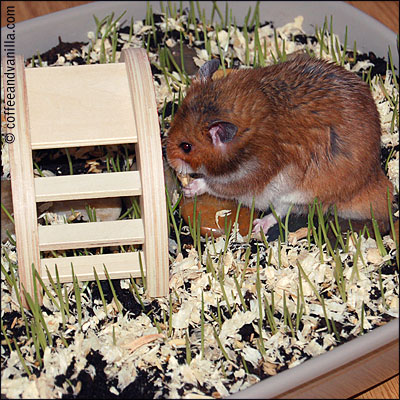 NOTES
Water the garden in the evenings after hamster's playtime, not before.
If  the hamster eat a lot of grass during his garden adventures do not giving him any more greens / fresh fruit & veg on that day.
I will be updating this post with some more photos once the grass and the clovers are fully grown.
More hamster posts can be found here.