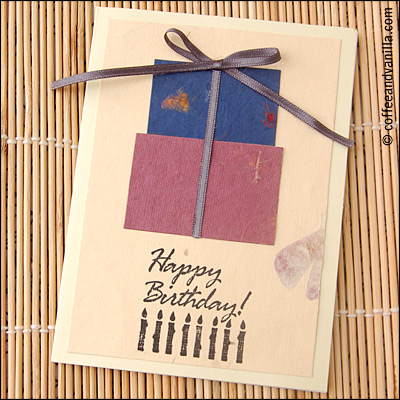 MATERIALS
blank card
3 colours of handmade Mulberry paper
2 pieces of thin fabric ribbon
EQUIPMENT
stamp & ink pad or dark marker/pen
craft glue
METHOD
Cut out 3 rectangular pieces from the paper, one large to cover almost the whole front of the card and two smaller ones for the parcels.
Stick them to the blank card.
Take one piece of the ribbon and stick it vertically across both parcels.
From one piece of the ribbon make a bow and place it on the top of the parcel.
Finish with stamped or handwritten "Happy Birthday" message underneath the design.
NOTES
I made this card for my husband's birthday.
More Mulberry paper card ideas:
Handmade Mulberry Paper Stamped Party Invitations / Cards
Greeting Cards from Handmade Paper