Having spent some of our summer holidays in Devon, camping (or more precisely glamping) at the Smytham Manor in Little Torrington, visiting Woolacombe, Barnstaple, Weare Giffard and other lovely places nearby I can definitely say that you can't leave until you will try some of their local specialities. There are two things you absolutely must have: Hockings ice cream (the one in honeycomb cone) and Chunk of Devon pasties that are sold in many cafes.
This pasty is inspired by one I have tried on the Woolacombe beach… Chunki Roast Vegetable Pasty from Chunk of Devon. Although it was summer, those pasties are perfect all year round. To recreate them we have generally used this tried and tested Homemade Chicken & Leek Pasties recipe and only changed the filling.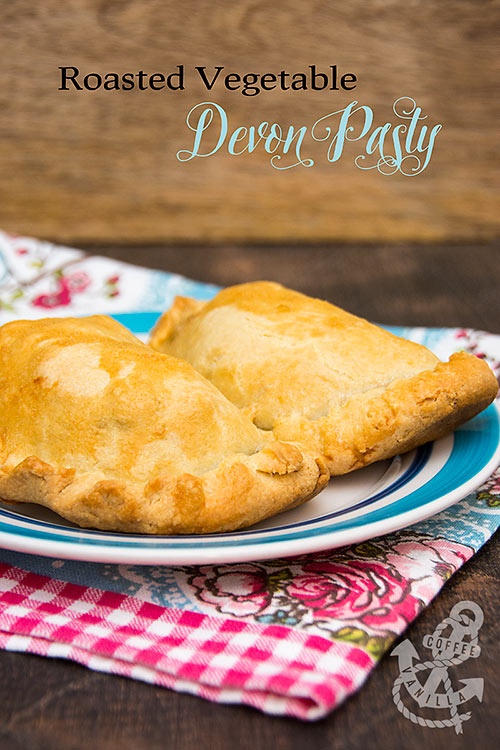 INGREDIENTS
pastry
7 cups plain flour
4 eggs (2 egg yolks set aside for the glaze)
250 g / bar of salted butter (softened)
1 cup of water
filling
600 g potatoes (cubed)
300 g sweet potatoes (cubed)
300 g butternut squash (cubed)
300 g onion (diced)
500 g leeks (chopped finely)
3 tbs olive oil
3 tbs unsalted butter
1 tbs dried thyme
1 tbs dried rosemary
2 vegetable cubes (crushed)
black pepper – to taste
sea salt – to taste
cup plain flour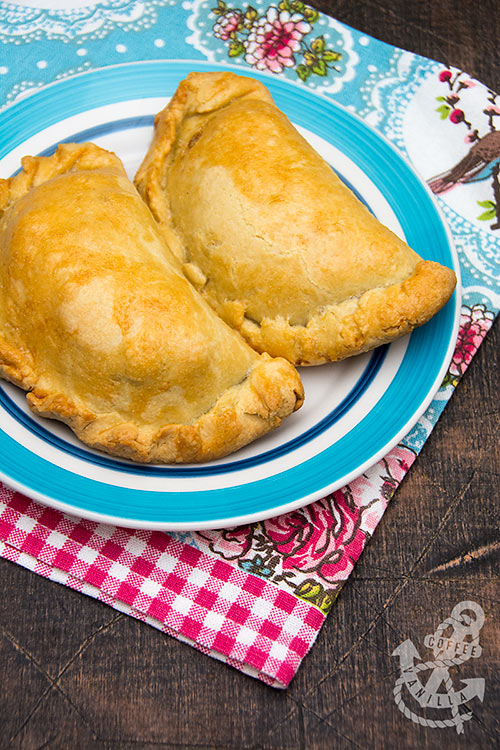 EQUIPMENT
large mixing bowl for the pastry
baking trays lined with baking paper
rolling pin
pastry brush
METHOD
First prepare the filling, combine all of the ingredients for the filling, except for salt, pepper and flour, and bake on a baking tray until vegetables are ready.
Season to taste with salt and pepper.
Set aside to cool down completely before stirring in the flour.
To prepare the dough combine all the ingredients and knead for a while.
To assemble the pasties take a ping pong size ball of the dough, roll it out to the oval shape and top with some filling in the middle. Bring longer sides together and seal the pasty pulling the lower layer over the top one and pinching it down while on the baking tray.
Brush ready to bake pasties with egg yolk.
Bake in the oven preheated to 200°C  (392°F) until golden
Enjoy alone or as a side to the soup or green salad.
Makes 15 large or many more smaller pasties.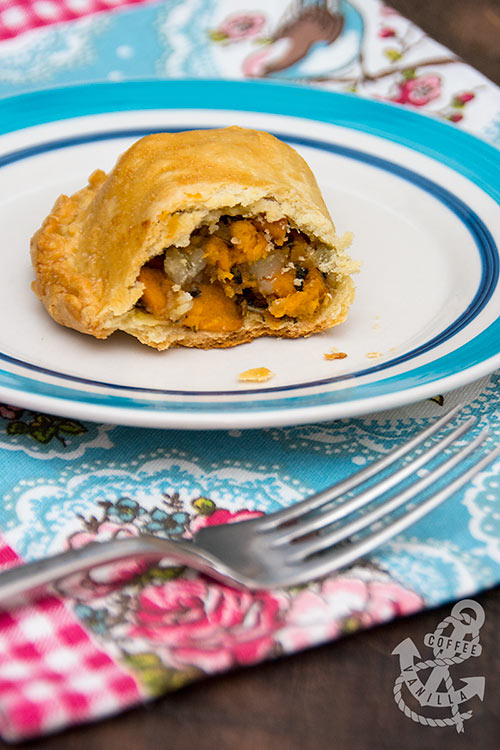 TIPS
The filling can prepared long time in advance and placed in the fridge for best result.
If there is any leftover filling, it can be used inside wraps or even as a side dish.
NOTES
Those Devon pasties will be reminding us for a very long time of our camping holidays, therefore I'm submitting them to our Inheritance Recipes link-up that we co-host together with Solange of Pebble Soup. October Inheritance Recipes is hosted on Coffee & Vanilla, please come and join us!