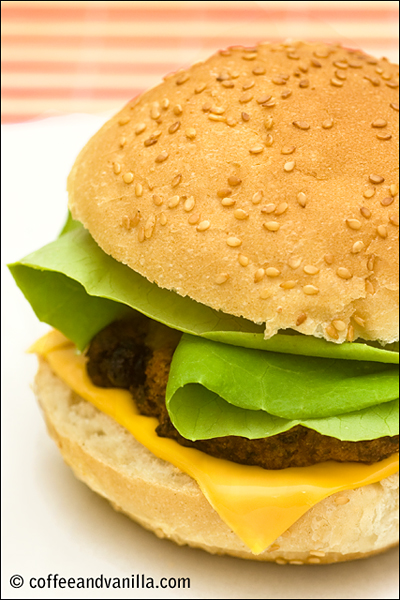 INGREDIENTS
for the burgers itself
600g minced turkey
1¼ cup fine bread crumbs (or dried and crushed bread rolls)
1 cup of water or milk
2 tbs dried coriander or some fresh one
2 eggs
1 onion (chopped finely)
3 tbs oil for frying onion (I used grape seed oil)
1 tbs garlic puree
3 tbs tomato puree (for the colour)
1½ tsp sea salt
2 tbs mild curry powder
to serve
10 large buns with sesame seeds
10 cheese singles
lettuce leaves or some other greens
pickled cucumber slices or other pickles – optional
banana ketchup, regular ketchup or some other sauce, such as sweet chilli sauce
EQUIPMENT
2 baking trays lined with baking paper or non-stick Teflon sheets
100ml spoon
mixing bowl
METHOD
In meantime fry onion on a little bit of oil until golden.
Then combine all ingredients except in a mixing bowl.  If the mixture is too wet add a little bit more bread crumbs and mix well.
Preheat oven to 200°C (392°F).
Using 100ml spoon take portion of turkey mixture into your hands, roll into ball, then flatten on your palm and place on the baking tray.
Bake for about 40 minutes turning burgers half way.
Cut each sesame bun in half, place inside cheese, top with still hot burger, your favourite sauce, leaves and optionally some pickles and serve immediately.
Make 10 large burgers .
Serve with roasted corn or some other salad on a side.