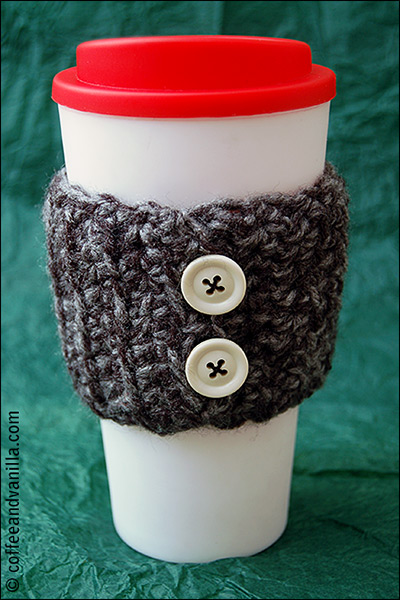 I always wanted to have one of those travel mugs but I never really liked any of them enough to pay £7-£10 for it. Couple of days ago, completely by chance, I spotted on sales this ugly mug… It was only 50p so I took it even through I did not really like the snowflake design but before I reached home I had a plan how to make it prettier and warmer as well.
MATERIALS
thick yarn (I used 2 thinner ones together)
2 buttons
travel coffee mug with rubbery grip
thread – optional
EQUIPMENT
5 mm crochet hook
needle – optional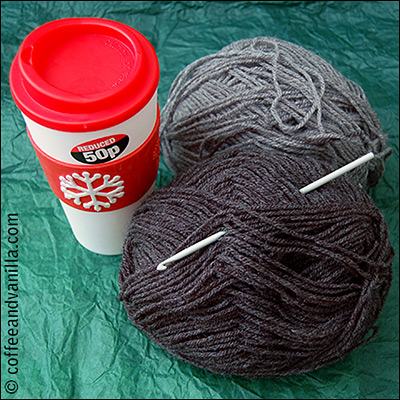 METHOD
stitches used: chain (ch), single crochet (sc)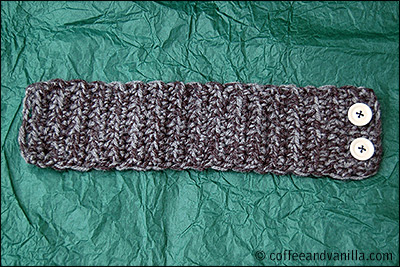 FOUNDATION CHAIN
Start with a row of around 12 ch.
ROW 1
Turn the chain around and work single crochet into each stitch of the foundation chain.
ROW 2+
Again turn it around and work 12 sc into previous row of double crochet stitches. Continue like this until the strap is long enough to go round the mug. I made about 18 rows.
LAST ROW (making button holes)
Work 2 sc then make 3 ch skipping 3 stitches in the foundation (to make a button hole) then again 2 sc 3 ch skipping foundation and the last 2 sc. Secure the end of the yarn.
Finish sewing on the buttons with thread and needle or tying them with yarn.
And voilà, your mug cosy is ready in less than 30 minutes (!)
NOTES
You may need to make the button holes bigger or smaller depending on size of the buttons, I used 18 mm ones.