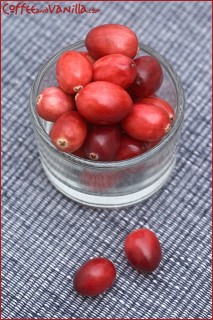 I have found those little cuties yesterday in the shop and I could not help myself… I don't even know when they end up in my basket.
Did you know that cranberries are good source of antioxidants and contain possible anti cancer agents. They are also known for anti bacterial properties that helps fight bladder problems and show efficacy against formation of kidney stones. Because of their popularity, nutrient values and antioxidant qualities they have status of "superfruit".
Fresh cranberries can be frozen at home, and will keep up to nine months.
Cranberries are also called Mossberry is some parts of Canada, their old English name is Fenberry and native Americans used to call them Sassamanash.