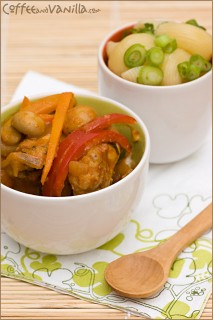 INGREDIENTS
chicken for 4-6 people (drumsticks, breast, wings, tights)
3 medium onions (chopped)
2 tbs oil (I used grape seed oil)
1 tbs dried coriander / cilantro or 3 tbs fresh / frozen coriander leaves
2 tsp garlic powder, 2 tbs garlic puree or 5-6 garlic cloves (peeled and crushed)
400g chopped tomatoes in tin or some tomato puree
150g white button mushrooms (sliced) or whole baby button mushrooms
2 vegetable or chicken stock cubes
1 pinch Cayenne pepper – optional
1 tbs mild curry powder
200g creamed coconut bar or 1-1½ cup coconut milk powder
1½ cup of water
2 medium sweet red, yellow or orange bell peppers or sweet pointed peppers (sliced)
pasta, rice or some baby potatoes
fresh / frozen parsley or spring onions (chopped)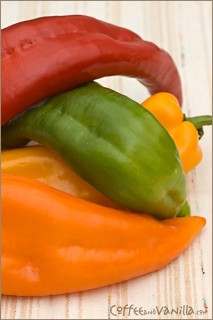 METHOD
Fry onions on a little bit of oil.
When they golden add chicken and let it fry for a while.
Then add coriander, garlic powder, tomatoes, cubes, Cayenne pepper, mushrooms and water.
In meantime cook pasta, rice or potatoes.
When chicken is ready add peppers and chopped coconut bar. Boil for a while longer till peppers are witted.
Serve on plates with pasta or rice, sprinkled with parsley or spring onions.
Serves 4-6 people.
Coconut chicken taste good with roasted potatoes.
If you have time you can fry mushrooms on some butter and add them just before serving.