[adapted from Tastes Like Home by Cynthia Nelson]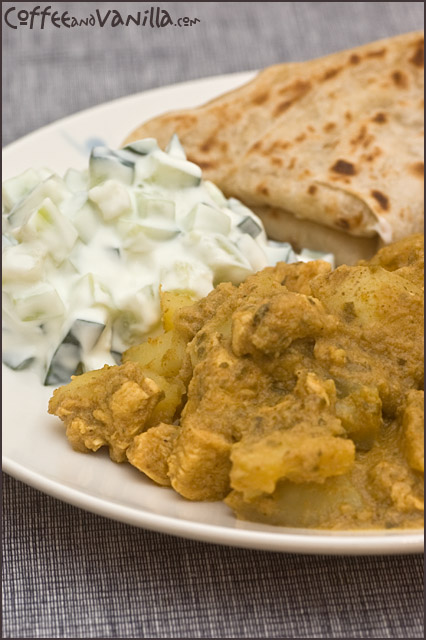 INGREDIENTS
600g chicken breast (cubed)
400g young potatoes (cubed)
½ cup vinegar (I used rice vinegar)
salt
100g creamed coconut (chopped)
2 tbs olive oil or grape seed oil
1 portion of homemade curry paste (click link for recipe)
8-10 roti wraps (click link for recipe) or cooked rice
EQUIPMENT
large deep frying pan or wok
METHOD
Place chicken and vinegar in a container. Add some water if needed to cover the chicken completly and let it marinade for 15-20 minutes. Drain and wash chicken.
Heat the oil in frying pan, add curry paste and fry for a while.
Add chicken and fry for couple of minutes. Add potatoes, fry a little bit longer. Then add enough boiling water to cook the potatoes.
When potatoes are almost ready add creamed coconut. Season with salt.
Reduce fire and let it cook for a while till gravy is thick enough and potatoes soft.
Serve with roti wraps or cooked rice and cucumber & natural yogurt salad.
Serve 3-4 people.