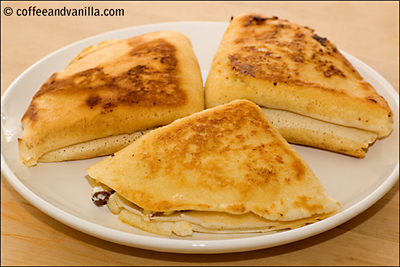 INGREDIENTS
unsalted butter to re-fry
for pancakes
3 cups self raising flour or 3 cups plain flour + 1 tbs baking powder
4 cups milk or a little bit more if pancake mixture is too thick
4 eggs
for filling
1200g hard cottage cheese / curd cheese
3 tsp orange extract
2 cups raisins
2 tbs white sugar
15g package of vanilla sugar (1½ tbs)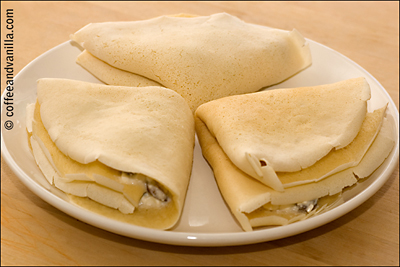 METHOD
Mix all ingredients for pancakes, pour 125 ml / ½ cup pancake mixture on hot non-stick frying pan and swirl the  pan until pancake mixture cover the whole bottom evenly, fry them without any oil or butter.
In meantime mix cheese with the rest of the ingredients.
Place 1-2 tbs of mixture on each pancake, on one side, fold in half and then again in half.
Re-fry on butter before serving.
Serves 5-6 people (about 15 medium pancakes).
NOTES
Optionally you can brush frying pan with a little bit of oil to prevent sticking or replace ½ cup of milk with oil, I used grapeseed oil (it will prevent pancakes from sticking  when your frying pan is not so new).